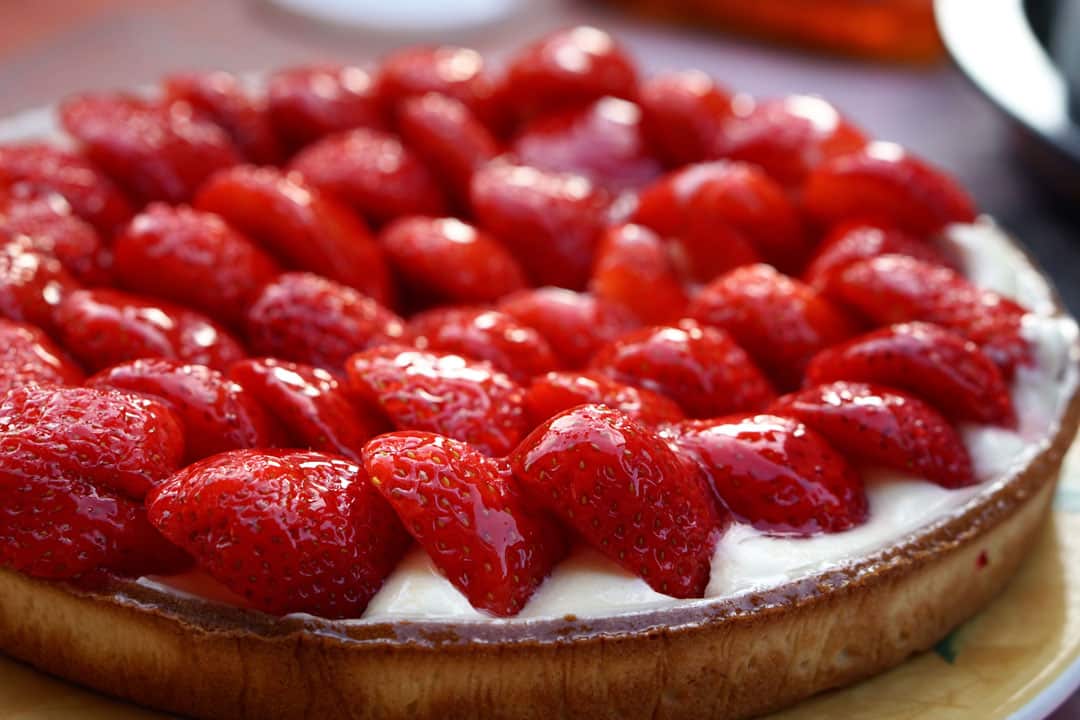 55 m Calories: 460 Easy 6 people
Hello Cocinacas! If you are looking for how to use one sweet cake but that at the same time contains fruit, you have found it. Our strawberry white chocolate cake is a hit and we know it will appeal to adults and children alike.
In our dessert recipes you will find many more ideas for cooking with fruit, such as fried banana chips or raspberry pie, one of our favorites.
We use the recipe that we are going to teach you today strawberriessince it is seasonal fruit in April. That means they are at their best to consume and buy them. You will find them cheaper than the rest of the year because they are proximity products, which prefers the local gastronomy.
And what better way to pair strawberries with something sweet, like chocolate? This is actually our main ingredient. Any cake made with chocolate, of any type, will conquer the palate of anyone with a sweet tooth. In addition, it is not very common that they are made with only White chocolateso the taste will be much more intense.
We know you will love it, but we should also warn you about it great calorie intake, so try to share and eat it in moderation. Moreover, these types of cakes taste better in good company, because it is a particularly delicious time for everyone.
Put on your apron because we started with the recipe.
Ingredients for 6 people
For the base of the cake
Biscuits – 200 gr.
Butter – 100 gr.
For filling the cake
White chocolate – 400 gr.
Curd – 1 envelope
Cream – 500 ml.
Milk – 1 glass
Cheese spread – 200 gr.
White sugar – 1 tablespoon
Strawberries – 400 gr.
How to make the recipe for white chocolate cake with strawberries
To prepare the base of the cake, we first crush the 200 grams of cookies (the type of cake is to taste, we chose Maria), we put them in a deep bowl and mix with the 100 grams of melted butter until the dough is homogeneous . Then we pour it into the cake tin and crush with a spoon or fingers so that they are well crushed as a base.
Then we prepare the filling of the cake. First we mix the cream and curd and reserve. Then pour the glass of milk and sugar into a saucepan and heat over medium heat. Now we add the cheese and the mixture of the cream and curd. We let it simmer until it boils, moving continuously with the bars so that it does not stick and when it is already boiling we remove it from the heat.
To the mixture we already have, add the white chocolate (previously melted au bain-marie) and continue stirring until well blended. Before it cools, we pour it over the base of biscuits and butter.
Finally, we cut the natural strawberries in half and place them on the cake as decoration. The cake needs at least four hours of refrigeration in the refrigerator. After this time, the filling has solidified and we can remove it from the mold.
Comments and tips
Around the cookies from the base, we can do it with a meat grinder or manually. A trick is to put them in a freezer bag and crush them with a rolling pin.
The White chocolate We buy it in the form of a tablet and it is necessary to melt it earlier to be able to process it in the milk mixture that is carried out in step 2. For this we use the bain-marie method, in which the chocolate is chopped in a bowl suitable for heating, which we will place on a pan with boiling water and it will be the steam itself that will melt it.
We also recommend that when you use the pie filling on the base of cookies put a spoon to pour the contents. This prevents the cookie from unraveling and spreading.
Another type of decoration that can be done with strawberries is by first drying them out and then breaking them. When the cake is already cold, we take the pieces of this fruit on top.
We hope that all these tips are useful to you and that the white chocolate cake with strawberries you like it as much as we do.
And if you have leftover chocolate, you can use it to make white chocolate pie. The taste leaves you speechless and wants more!
Have you ever cooked so many? dessert recipes with white chocolate? If you know one, tell us through the comments.
We let you enjoy the long-awaited moment: the tasting.
See you soon, Kitchen!
If you liked this recipe for white chocolate cake with strawberries we advise you not to miss out more Dessert Recipes Free download our app DOWNLOAD HERE. Dessert recipes