Vegetable curry are tasty, filling and packed with good for you ingredients. It is made with lots of vegetables, including sweet potatoes and cauliflower, that have simmered in a spice packet of creamy coconut curry sauce.
Try some of our other popular curry recipes next: this butternut squash curry, coconut curry chicken or this yellow chicken curry.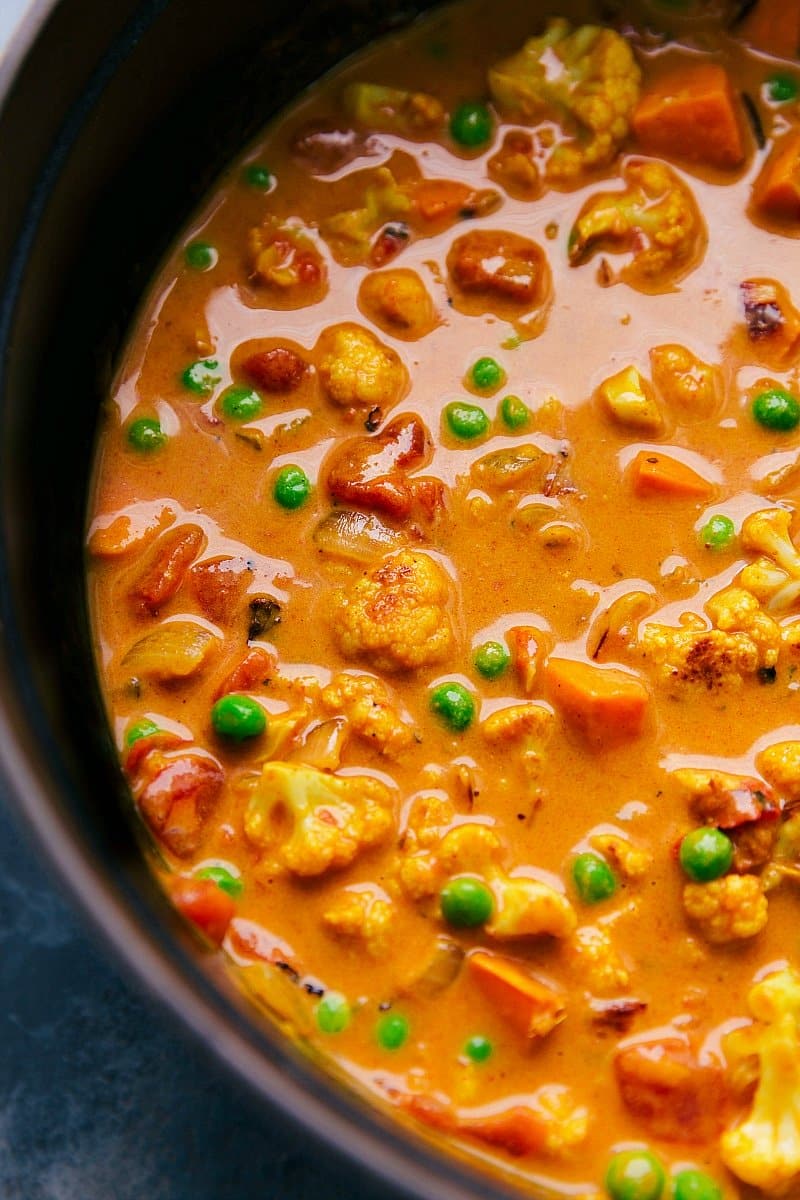 A great recipe for staples
My vegetable curry recipe has been in the works for a few months now, and while you need some fresh produce, the majority of this recipe relies on pantry staples – spices, curry pasta, coconut milk, canned tomatoes, frozen peas and rice. Then, with the required fresh produce, most of it is shelf-stable for quite a long time – onions, ginger, garlic and sweet potatoes.
I knew I wanted to share this recipe as soon as possible for those of you who happen to have most of the ingredients available for this vegetable curry.
Meal prepping vegetable curry
This recipe also happens to be a great candidate for meal preparation as it stores and heats exceptionally well. Plus, the curry gets more flavorful every day as the ingredients and flavors blend and intensify in the flavor. I like to make a batch on Sunday, divide it into cooking containers and enjoy it for lunch through the week. That is, if the boys don't steal the containers first!
To reheat: Pour it either in the microwave for a few minutes, stirring every 45 seconds, or warm on low heat in a small saucepan until heated through.
Veggies that go well in curry
This curry requires onion. sweet potato. cauliflower. roasted crushed tomatoesand frozen peas. Below are a few other ideas if you need to replace or customize this recipe:
Butternut squash
Broccoli flowers
carrots
Yukon gold or red potatoes
Solid peas
peppers
When replacing one veggie with another, just make sure the quantities stay fairly consistent. You will also make sure to chop the vegetables into small bite-sized pieces.
Vegetable curry customization
Swap vegetables: See the section above for different vegetables that can be replaced with curry.
Add spice: If you want a spicier curry (as written, this recipe is very mild), increase the red curry paste to 3 tablespoons and add some red pepper flakes or cayenne pepper (to your liking; start slowly and rise as desired).
For a more Thai-flavored curry, stir a few tablespoons fish sauce at the end.
Not vegan or vegetarian? Chicken broth or stock will work instead of vegetable stocks.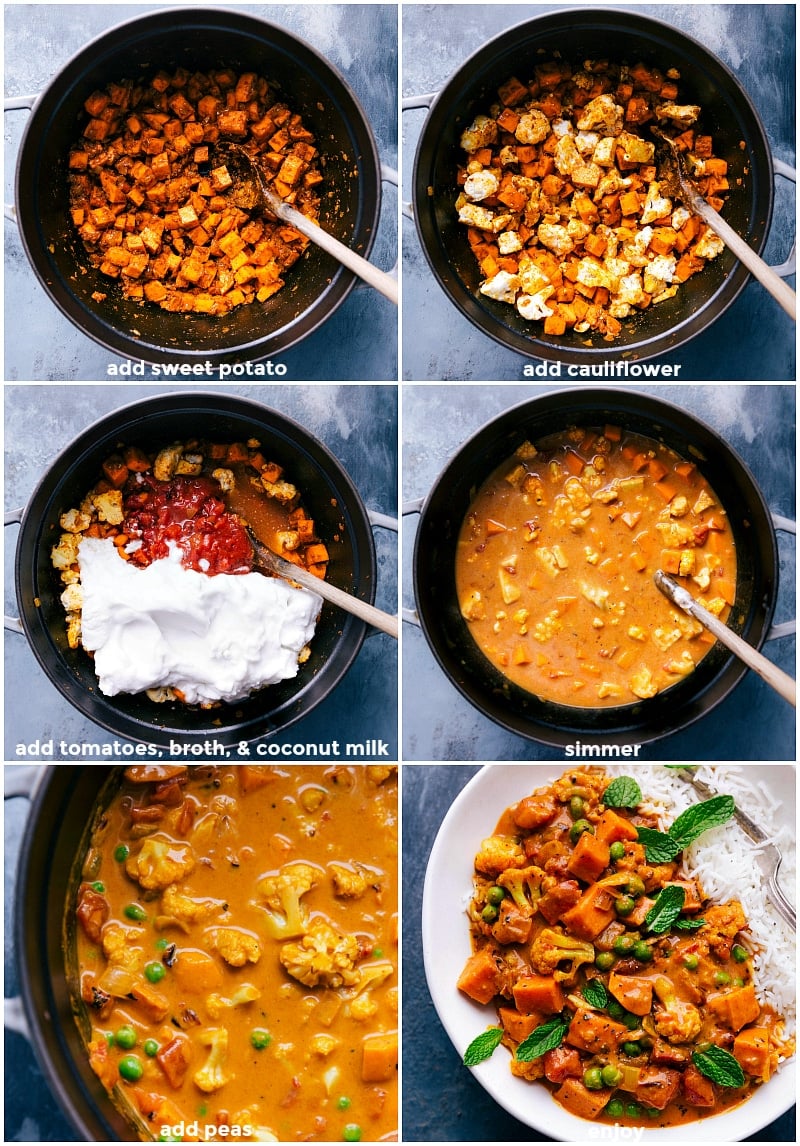 What to eat with vegetable curry
Our two favorite accompaniments to this vegetable curry are naan Bread and basmati rice.
A few other ideas:
Is vegetable curry healthy?
This recipe is naturally vegan and packed with nutritious ingredients. The vegetables contain a lot of minerals and nutrients. They also fill even low calories. The spices, especially turmeric, have anti-inflammatory effects.
To make this curry healthier, use lite coconut milk instead of plain (it will be less creamy) and limit the amount of rice and naan served next door.
If the curry is unfamiliar to you, you can learn about the exotic-sounding ingredients in this interesting article.
More delicious vegetarian recipes
Vegetable curry
Vegetable curry are tasty, filling and packed with good for you ingredients. It is made with lots of vegetables, including sweet potatoes and cauliflower, simmered in a spicy packed creamy coconut curry sauce.
Course: Dinner, main course
Food: Healthy, Thai, Vegan
Keywords: vegetable curry
Servings: 6 servings
Calories: 364 kcal
ingredients
1/4 cup coconut oil
1 and 1/2 cup fine diced yellow onion (~ 1 large onion)
1 and 1/2 tablespoons finely chopped ginger (~ 1 inch piece)
1 tablespoon finely chopped garlic (~ 3 cloves)
3/4 tsp ground turmeric
1 teaspoon EVERY: ground cumin, garam masala
1 tablespoon yellow curry powder
1 and 1/2 teaspoon EVERY: paprika, ground coriander
2 tablespoons red curry paste (See Note 1)
Salt and pepper
2 cans of full fat coconut milk (lite is ok; curry is much less creamy)
1 can (14.5 ounces), roasted crushed tomatoes
1 cup vegetable stock
4 and 1/2 cup chopped sweet potatoes (~ 3 medium to large potatoes)
3 and 1/2 cup minced cauliflower (~ 1 small head / 1/2 large head)
3/4 cup frozen peas
1/3 cup finely chopped coriander
Optional: fresh lime juice
Optional: basmati rice server (See Note 2) and with naan bread if desired
Instructions
PREPARE: Dice onions, chop garlic and chop ginger. Peel and dice the sweet potatoes to get about 4 and 1/2 cups. Set aside.

Sauté: Add 1/4 cup of coconut oil to a large cast iron pan and heat to medium-high. Once oil is melted, add 1 and 1/2 cups finely chopped onion, 1 and 1/2 tbsp finely chopped ginger and 1 tbsp finely chopped garlic. Sauté until tender and very fragrant, approx. 7-9 minutes. Reduce heat to low if something burns or gets too brown. While everything is sautéed, season the spices and add to the pan: 3/4 tsp ground turmeric, 1 teaspoon ground cumin, 1 teaspoon garam masala, 1 teaspoon yellow curry powder, 1 and 1/2 teaspoon bell peppers, 1 and 1/2 teaspoon ground coriander and 2 tablespoons red curry pasta. Seasoning to taste, I add 1 and 1/4 teaspoon salt and 1/4 teaspoon pepper or preferred. Cook and stir until fragrant, over medium-low heat, 1-3 minutes.

ADD WALLS: Add the chopped 4 and 1/2 cups of sweet potatoes and stir to coat the spices. Cook over low heat, stirring occasionally, when chopping the cauliflower. Coarsely chopped cauliflower – it does not have to be in individual flowers or anything special, just a quick coarse chop. Add 3 and 1/2 cup cauliflower, and stir to coat everything. Add the two cans of coconut milk, 1 can of crushed tomatoes and 1 cup of vegetable stock. Stir and cook, then reduce heat to low and simmer, covered for 18-25 minutes, or until vegetables are tender. Remove lid and stir occasionally – every 7 minutes. (Check tenderness by piercing with a fork; if sweet potatoes easily penetrate, they are ready). While the curry is simmering, I like to cook some basmati rice (See Note 2).

FINISHING: Stir in 3/4 cup frozen peas and 1/3 cup diced cilantro. Optionally add fresh lime juice or serve lime wedges with individual plates. Serve over cooked basmati rice with naan bread and enjoy immediately.
recipe Notes
Note 1: If you are vegan, make sure the red curry paste is vegan; The Thai Kitchen® brand is vegan.
Note 2: How to cook basmati rice:
Measure rice and rinse it in a fine mesh sieve until the water runs clear.
Put the rice in a bowl and cover it with water suction for approx. 5-10 minutes.
While the rice is softening, fill a large pan with water and set it aside cooking.
When the water is at a boiling point, drain the rice and add it to the pan.
Cook without reducing the heat, too 5 minutes and then empty and fluff with a fork.