Tun gets such a bad rap. I know you wouldn't reject this tuna pasta bake!
I remember in law school, I could always fear that day that I would be the one to bring a tuna sandwich for lunch or bring these tuna cracker packages.
Do you remember them? The plastic package came with a small can of tuna, biscuits and a mayo package.
Either way, I was always so embarrassed by the smell of fish.
These days, it doesn't seem like I'm getting enough of canned tuna.
It's so easy to have protein, especially when in need during lunch.
I love that it is a light and lean protein and can be mixed with anything.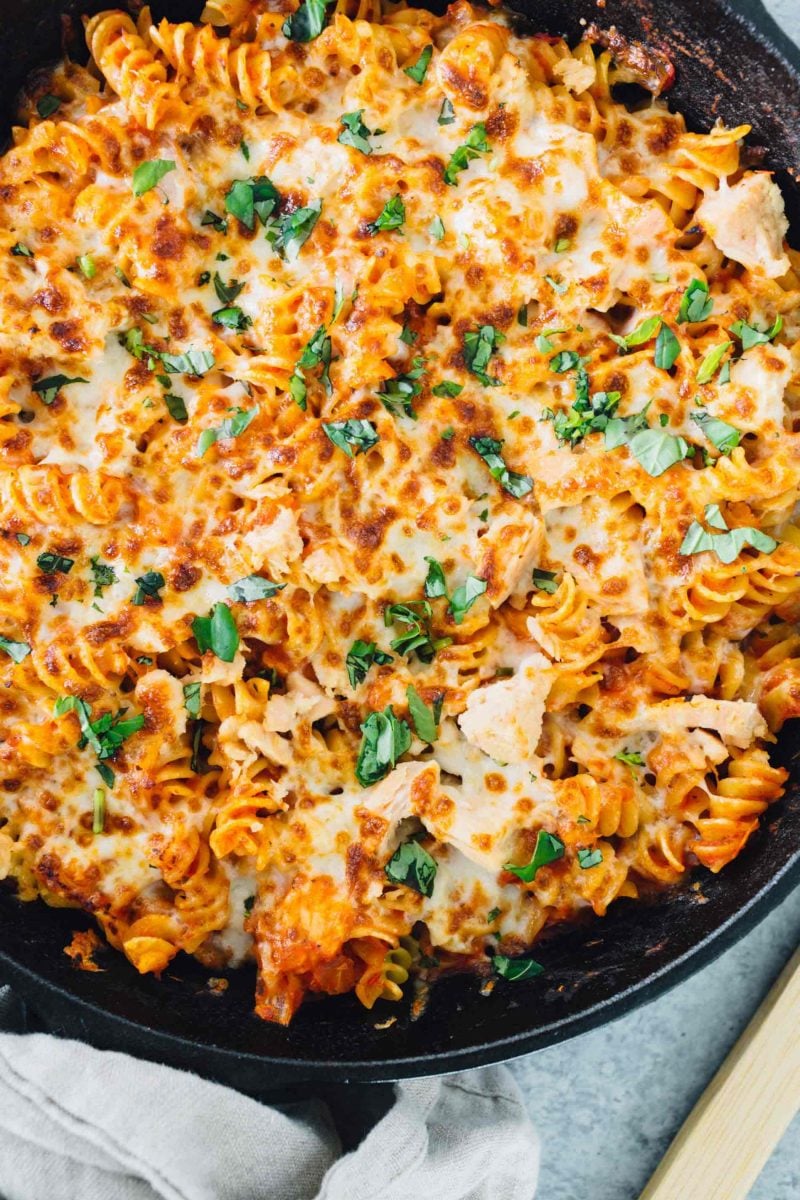 This tuna paste bake looks fancy, but it's incredibly easy to make.
You probably already have all the ingredients in your pantry.
In fact, all the ingredients are pantry items!
Can I use another fish in this?
Canned salmon would be just as delicious!
Can I use meat in this instead?
You could, but then it wouldn't be a tuna pasta paste and just be any regular pasta meat bake haha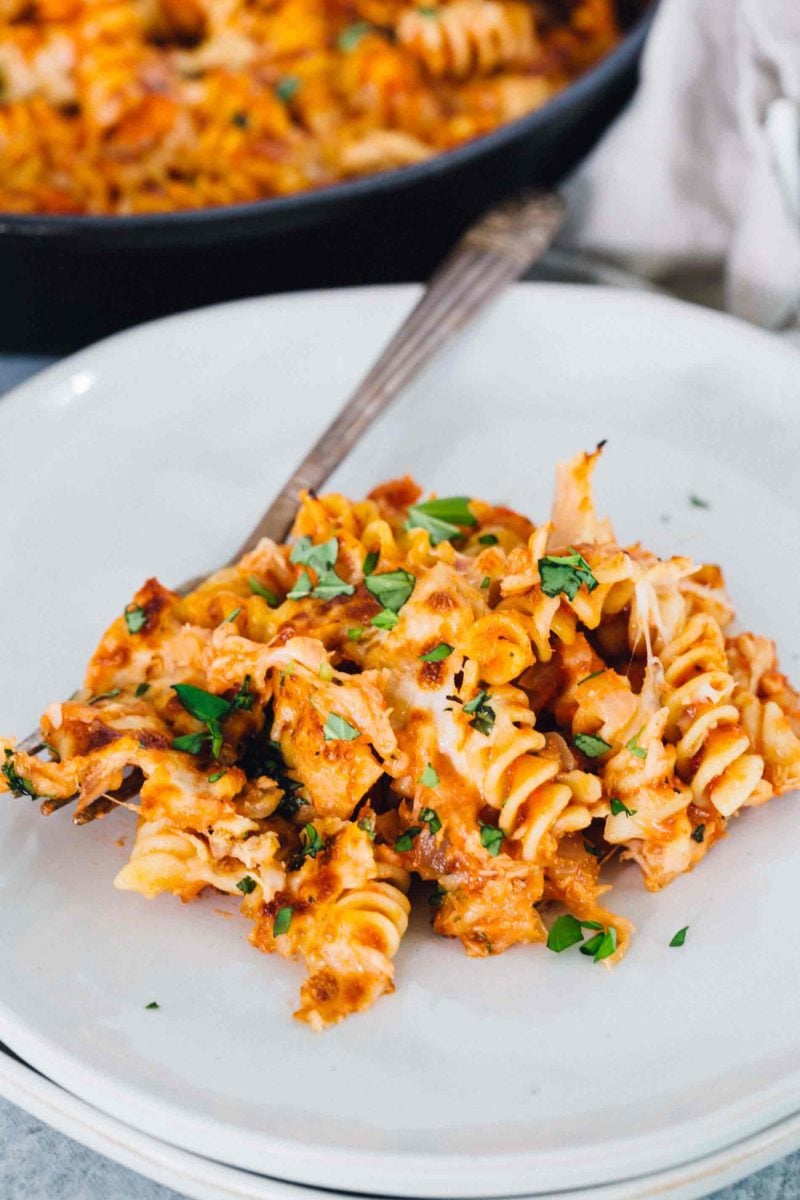 What kind of pasta is best if I don't have rotini?
I LOVE rigatoni or mini rigatoni. You can even use small shells in this!
I like pasta that "catches" the sauce.
Can I use canned tuna in water?
It is best to use can in olive oil. It has so much more flavor!
Can I bake the tuna paste in a Dutch oven instead of a cast iron pan?
Yep! You can use any oven or pot that is oven-safe.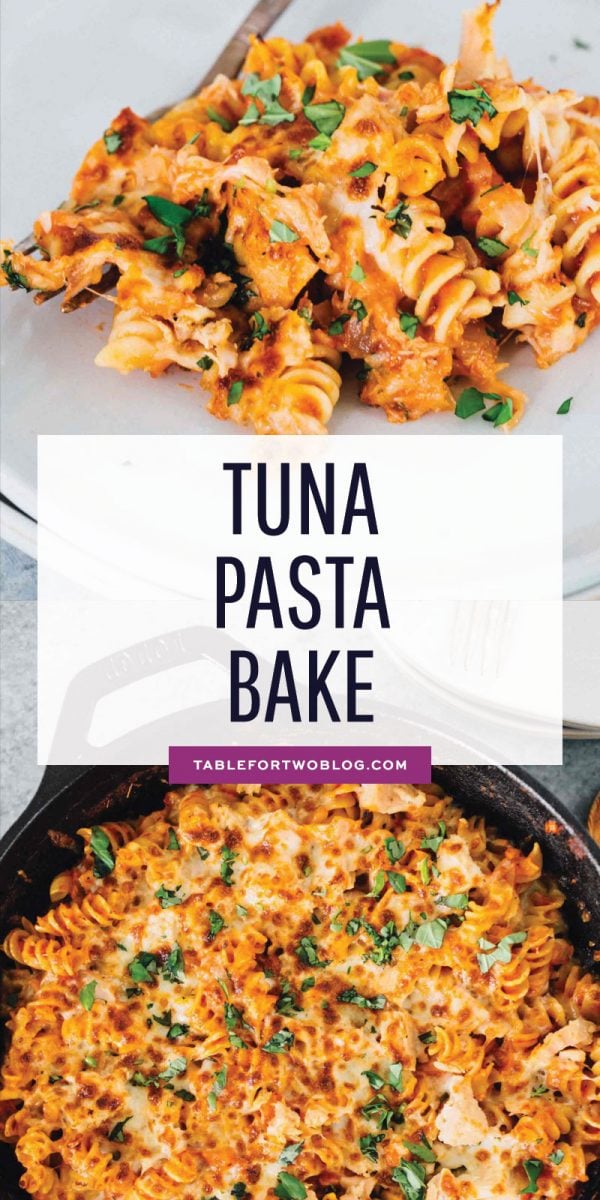 If you love canned tuna, here are some great recipes that use canned tuna:
Zesty tuna pasta
Spinach tuna salad with delicata squash
Mediterranean white bean salad
Spindle and tuna filled shells stew
Tuna paste baked
This incredibly light pasta pastry uses most of everything you already have in your pantry! Preparation time: 10 min. Boiling time: 35 min. Total time: 45 minutes Course: Dinner Cuisine: American Calories: 482kcal
ingredients
2 cups of dried pasta
1/2 medium onion, cubes
3 cloves of garlic, chopped
1 3/4 cup crushed tomatoes
1 tablespoon tomato puree
1/2 tablespoon Italian spices
Salt and pepper, to taste
2: 15 ounce cans of tuna in olive oil, drained
1/2 cup mozzarella, full cut
1/4 cup fresh grated parmesan cheese
Fresh basil, finely chopped for garnish
Instructions
Preheat oven to 375 degrees Fahrenheit.
Bring a pot of boiling water, then cook the pasta for half the time the box says. It finishes cooking in the oven.
Meanwhile, heat a large (12-inch) cast iron pan over medium-high heat. When the skillet is hot, add 1 tablespoon of olive oil, add the onion and garlic and cook until softened and fragrant, approx. 3-5 minutes.
Add crushed tomatoes, tomato paste and Italian seasoning, stir to incorporate. Season with salt and pepper. Remove the frying pan from the heat.
Empty the paste and add it to the pan. Throw to cover. Add the drained tuna, but do not mix excessively. Just toss gently so bites stay in tact and it doesn't turn to grated tuna where you can't see it in the bowl at all.
Sprinkle cheese on top in an even layer, then bake for 25 minutes or until the pasta is cooked through and the mixture is bubbly and the cheese is melted.
Sprinkle with fresh basil on top, serve and enjoy!
notes
If you feel the sauce is too bitter (it really depends on the tomato brand so it varies), you can add a bit of granulated sugar to the sauce. Nutrition Facts Tuna Pasta Baking Amount Serving (1 serving) calories 482 calories from fat 108 % Daily Value * Fat 12g18% carbohydrates 52g17% Fiber 4g16% Sugar 5g6% protein 44g88% * Percent daily values ​​are based on a 2000 calorie diet. * Nutrition facts are an estimate and are not guaranteed to be accurate.