Hi there! I took a break from blogging for our 2 week family trip to Thailand. If you follow me on Instagram or FaceBook, you had to see some of our photos and updates while in Thailand. We've been home for almost 2 weeks now, but just when we came back we all came down with a stomach flu and the whole week was spent recovering. Now we feel back to normal and are just happy to be home! I missed cooking and can't wait to get our meal plan up and running for the week and grocery shopping. Yes, I missed groceries too!
I wanted to share some pictures and what we did on our trip. This trip was 5 years in the making, Danny and I got married in 2011 and were planning to go to Thailand the following year, but I was pregnant so we put it on hold. Then it didn't seem like it worked every year after, but eventually 6 months ago we decided to just plan it and hope for the best!
We traveled on EVA Air from Los Angeles to Bangkok with a layover in Taipei. Our tickets were priced well and we got a discounted rate for our 3 year old son and only paid taxes for a baby child ticket. EVA Air was very welcoming and excellent customer service. On the way to Bangkok, they gave us an extra room for the baby, score! And on our return trip we were given bulkhead seats for the basin attachment. We left LAX at midnight and it worked really well as both kids ended up sleeping the majority of the 13 hour flight to Taipei. We arrived in Bangkok just before noon the day after. Then we took a flight from BKK to Krabi, on Bangkok Airways. This was a short 1 hour flight to the beach town and we took a taxi to our hotel at Krabi Resort. The resort is right by the sea and consisted of cute little bungalows and mini condos. The resort had a security guard in the front, private beach area, nice pool and a good restaurant. We stayed here for 3 nights and it was the perfect way to relax from all our flights.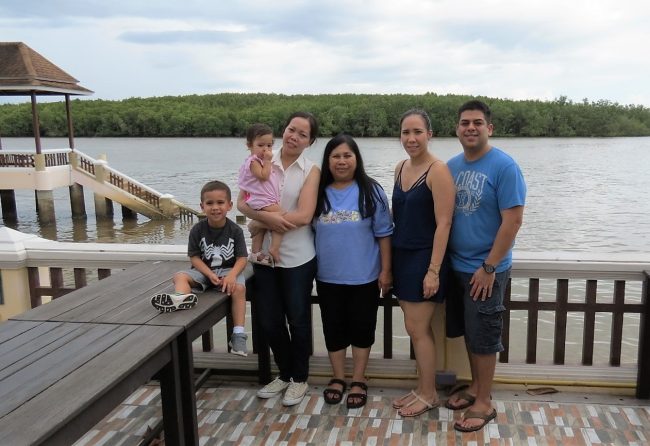 We asked one of the hotel's taxi drivers where there was a nice restaurant with good seafood and he took us to Krabi Seafood Restaurant. This place did not disappoint, it was probably one of our favorite restaurants on our entire trip! The restaurant sits right on the water and the seafood was fresh and the food was very authentic. My favorite was the whole fish steamed in lime juice, garlic and chili, Pla Neung Manoa.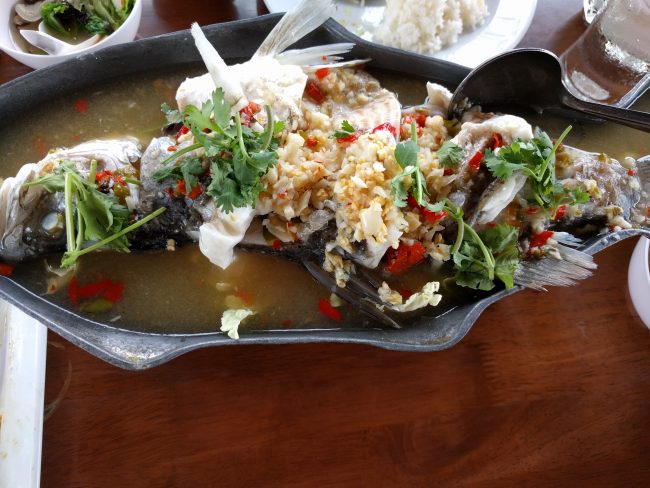 Our last day in Krabi we took a boat out to Poda Island. The hotel offered a full day excursion to see 4 different islands, but when my toddler went with us, we decided to just take a 4 hour island trip. The water was crystal blue and we went for a nice swim in the sea. You can see my son loved it!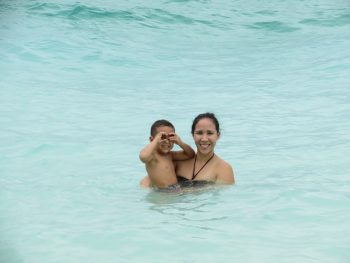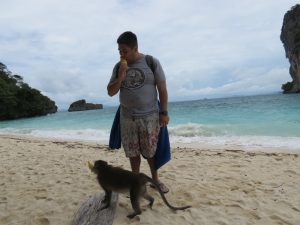 We also saw some wild monkeys on the island. Danny ate a cereal and it popped on him for a while! We couldn't believe it! Some of the locals on the island told us to give it to the monkey, otherwise he could get feisty and we didn't want it to happen! If you are traveling to Krabi or Phuket, I highly recommend doing island trips.
Our next stage of the trip consisted of visiting with the family and taking a road trip up north. My grandmother lives in a small farming town approx. 30 km out of Bangkok, called Samphran. As there are few hotels in this area, we stayed in a larger city about 15 minutes away, called Nakhon Pathom. Here we found a lovely hotel through Trip Advisor, The Proud Exclusive. The hotel was clean, modern and only about $ 30 USD per night. Night. We stayed here for a week and spent our days with family and strolling around the night markets in the evenings.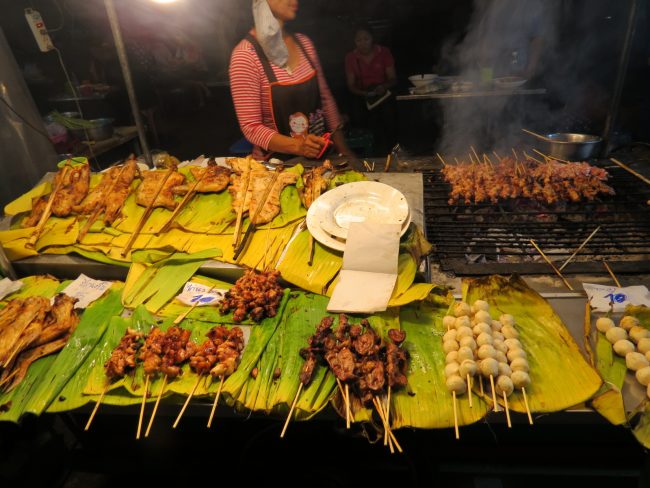 We had some great street food at the Nakhon Pathom night market. Some favorites were chicken and pork Satay and shrimp pudding Thai. The guy with the huge wok makes Fried Oyster Omelette.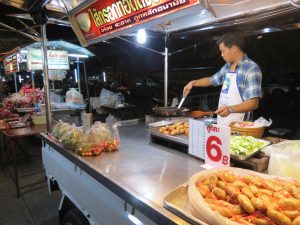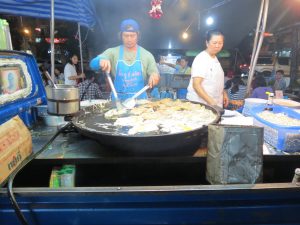 Another popular attraction in Thailand is the floating markets. We spent the day at one and enjoyed buying souvenirs and food all inside a boat.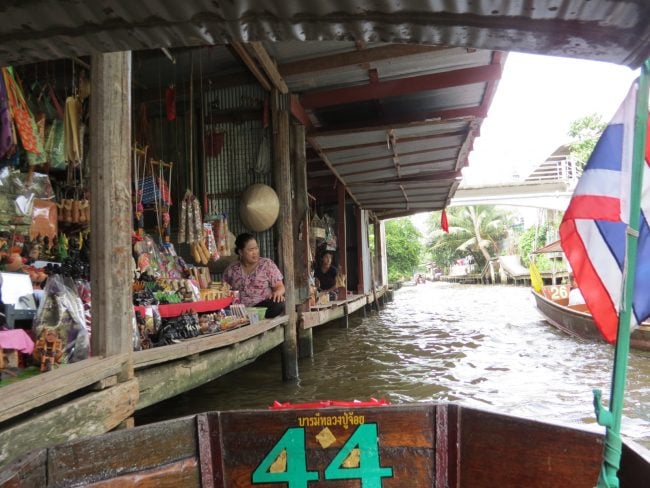 We also spent a day in Bangkok at the Royal Palace and Wat Pra Kaew. This was just a week before the King of Thailand died. The day we traveled was when news of the King's death broke. Since then, there have been citywide mornings about his death and remembrance of his reign over Thailand.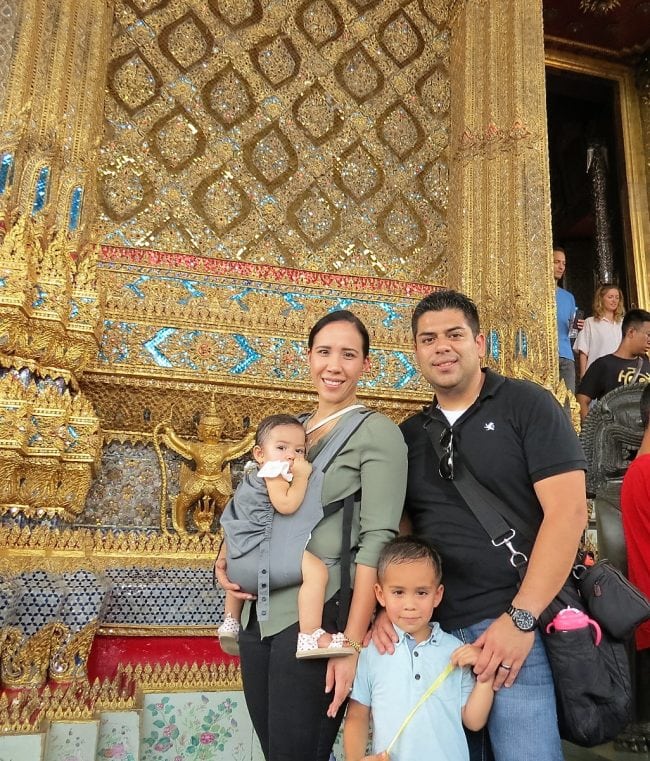 My kids are not wet, it just sweats lol! Living in the desert without humidity made it difficult to adjust 100% humidity in Thailand, but they were such troops and did so well on the entire trip. I am so grateful that we were able to make this trip possible and visit my mother's family. We had a great time and the chaos of traveling with children was definitely worth it.
If you are planning to go to Thailand and want to save some money, I would recommend going during the rainy season (Aug-Oct). Granted it rains almost every day, but it usually clears up after an hour of rain. The beach towns and resorts typically have discount rooms and there are smaller crowds during this period. Otherwise, if you prefer to travel when it is not so wet, I would recommend going in April when it is Thai New Year. There are lots of fun water activities and so much to do at this time of year.
Feel free to leave any questions in the comments, I'd love to answer them.
-xo Renee