Southwest breakfast potatoes. These easy-to-make BAKED potatoes are toasted with bell peppers, jalapeno and the perfect spice blend. Crisp on the outside, soft on the inside, these potatoes are better than your favorite dining room!
Nothing finishes a breakfast meal like having some hearty, crispy potatoes on the side! These potatoes are easy to make, they are baked and come out soft on the inside and crispy on the outside. The perfect side for your scrambled eggs, quiche, Migas or loaded inside breakfast tacos
How to make breakfast potatoes:
Dice of potatoes and peppers. If desired, add desired dice onion. Do not add minced garlic, it does not hold well with high heat frying. Use the pepper you want, if the jalapeño is too much spice, you can use a mixture of red and green peppers instead.
Sprinkle with oil. Stir to ensure all potatoes and peppers are coated, this will help protect them during roasting and help create a crispy exterior.
Season: My favorite spices are garlic powder, onion powder, salt, cumin, black pepper and smoked paprika.
Bake. Spread the potatoes in an even layer on the baking sheet to ensure even cooking.
High heat. After boiling the potatoes for 20 minutes, increase the heat to 500 ℉ to give the potatoes a crispy skin.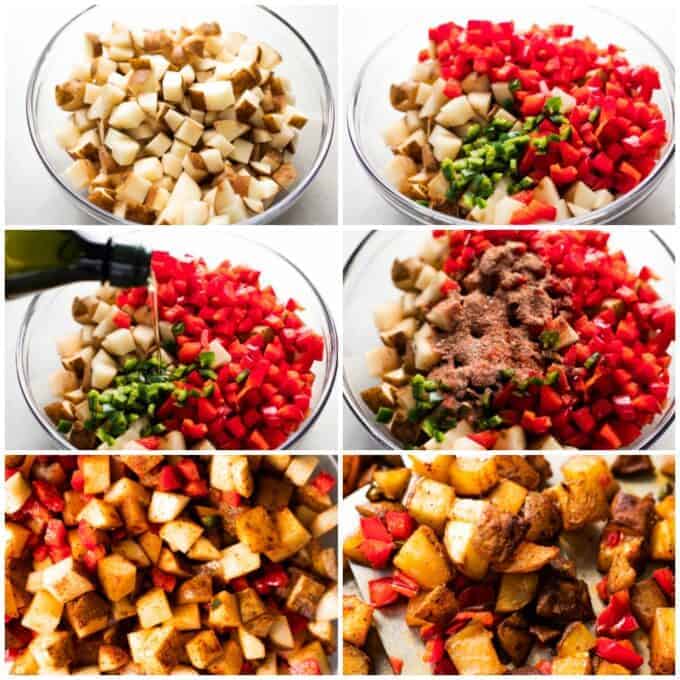 Tips to make CRISPY potatoes:
Since we do not fry these potatoes in a frying pan, we need to do a few things to make them nice and crispy on the outside as we bake in the oven.
Coat with oil– use a high smoke point oil (avocado oil is a good option!)
Cook at 425 ℉ initially to help soften the potatoes.
Cook at 500 ℉ to finish, this will give a crispy skin to the potatoes.
Storage:
Crispy breakfast potatoes are best when eaten immediately after baking. If you have leftovers, store in a sealed container in the refrigerator for 3-4 days. When reheating, drizzle a small amount of oil or melt some butter in a medium-heat frying pan, and fry the potatoes while warming to help preserve some of the crispiness.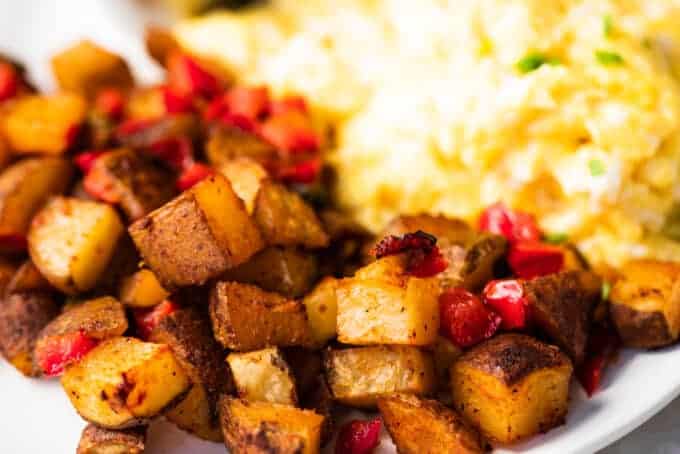 More breakfast recipes:
Preheat the oven to 425 ℉.

Clean and toast the potatoes, place in a large mixing bowl.

Add red pepper with cubes and jalapeño. Sprinkle with oil. Stir to combine.

Add spices. Stir to coat the potatoes and pepper completely.

Spread the potatoes on a large baking sheet in an even layer.

Bake for 20 minutes, stir with a licking pot, then raise the temperature to 500 ℉ and bake for another 15-20 minutes, or until the potatoes begin to crisp and brown at the edges. Stir them about every 10 minutes to make sure all sides are crispy.
replacements: Onion: Instead of using onion powder, you can dice 1/2 cup onion and mix it with the potatoes and peppers for roasting. Jalapeno: can instead use a green pepper or omit completely.
Calories: 150 kg, carbohydrates: 29 g, protein: 4 g, fat: 3 g, saturated fat: 1 g, sodium: 397 mg, potassium: 680 mg, fiber: 3 g, sugar: 2 g, vitamin A: 810IU , Vitamin C: 37 mg, Calcium: 20 mg, Iron: 2 mg
Recipe was first published May 4, 2016. Updated May 4, 2020 with new images.
House of Yumm is a participant in the Amazon Services LLC Associates program, an affiliate advertising program designed to provide us with a means to earn fees by linking to Amazon.com and affiliate sites.