A note from Julie: this recipe is the same as when it was first published in July 2013. The photos have been updated for your experience.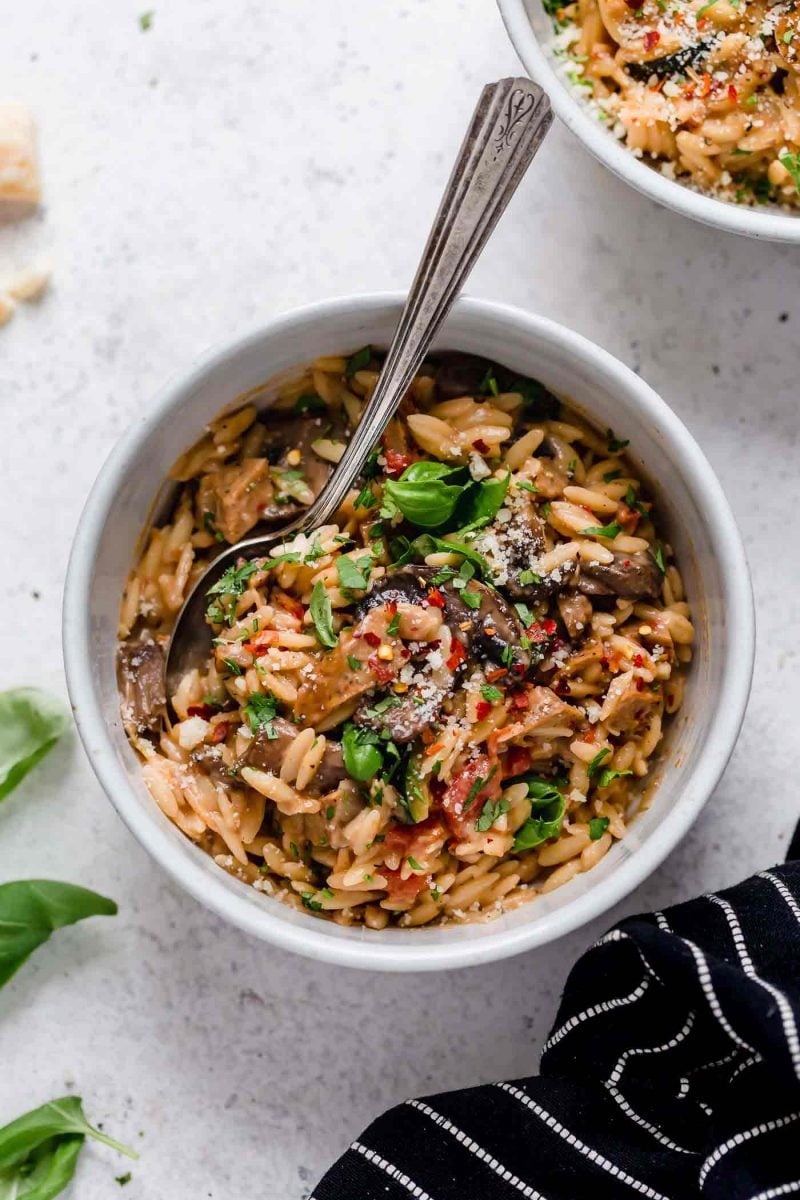 I came up with this one-pot creamy orzo chicken sausage recipe one night at random, as most dinners sometimes seem to be.
It is usually me opening the fridge and pulling out ingredients and seeing if they would work together or not.
I remember when I first made this recipe, back in 2013, chicken sausage was still not really a thing yet.
It was just starting to hit the market, but by no means was it popular yet.
I remember being sent chicken sausage by a company (who now sells at Whole Foods!) To try because they were new to the market. I thought it couldn't hurt to try.
That's how my love for chicken sausage became.
And how this recipe for one-pot creamy orzo with chicken sausage became!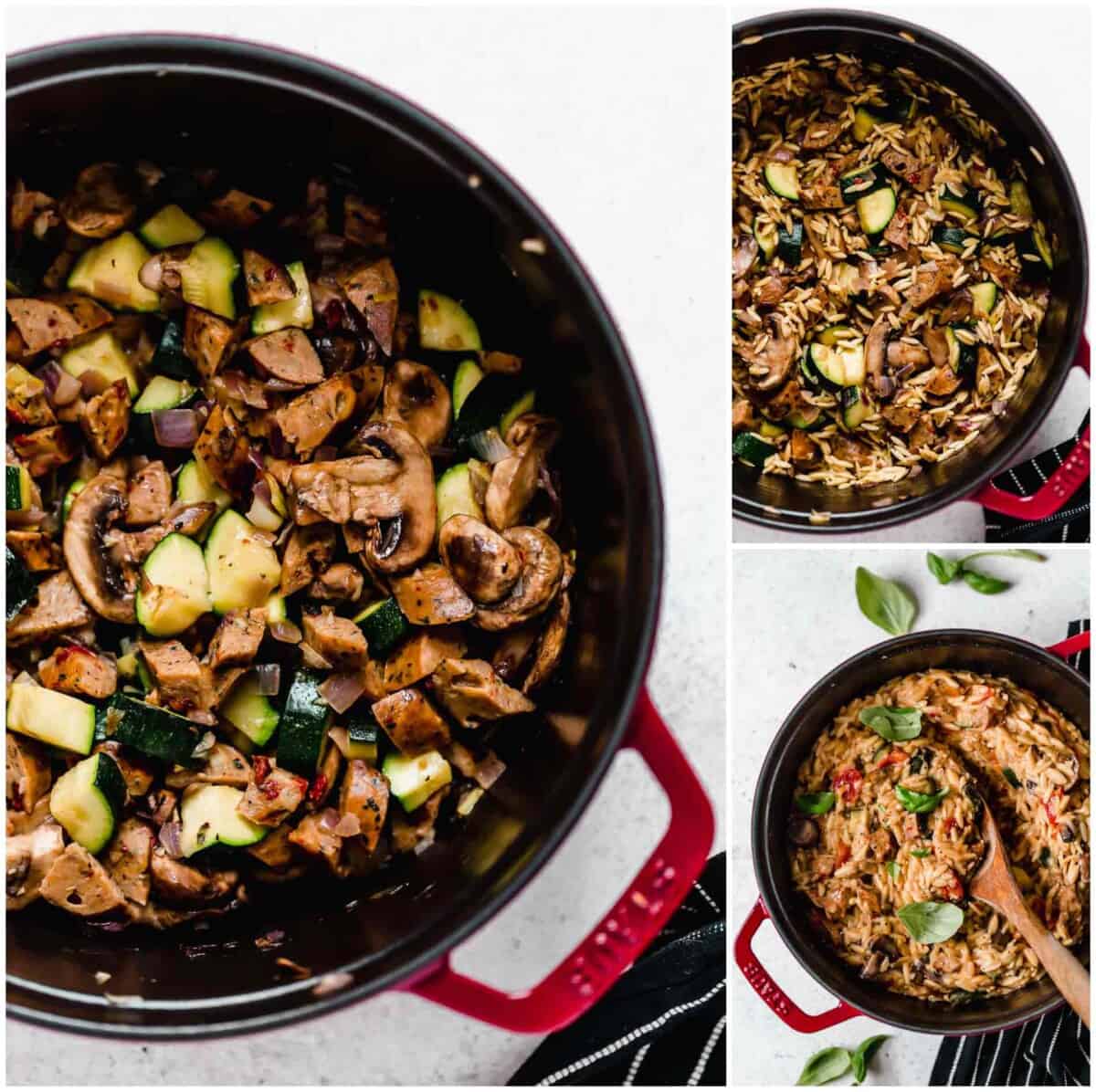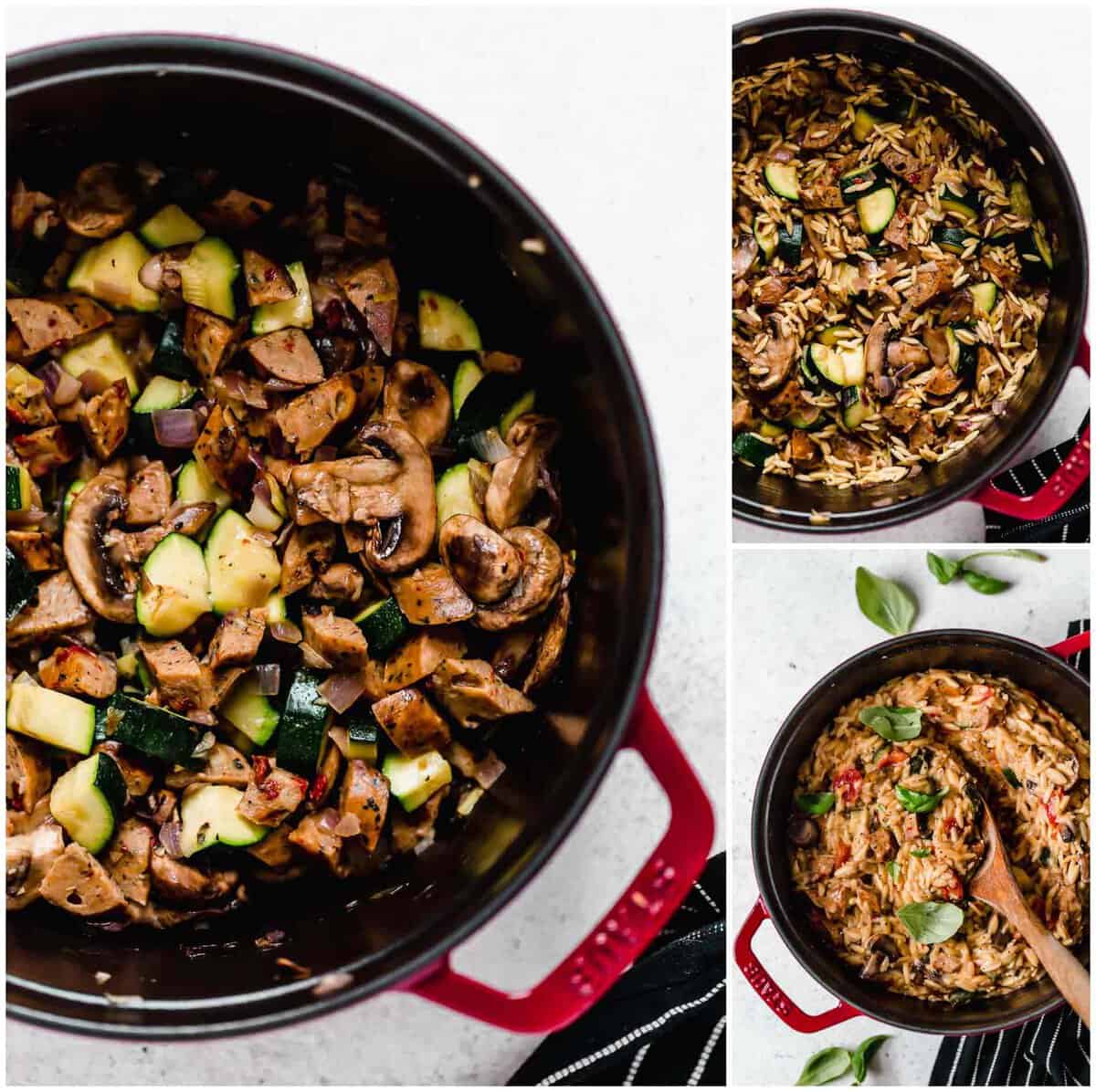 Can I make this with another paste or cereal?
Farro would be great with this or even do this with risotto / arborio rice.
Can I add different veggies to this?
Yes absolutely.
I made this in the summer so I used a lot of seasonal / summer vegetables.
You can use whatever vegetables you like.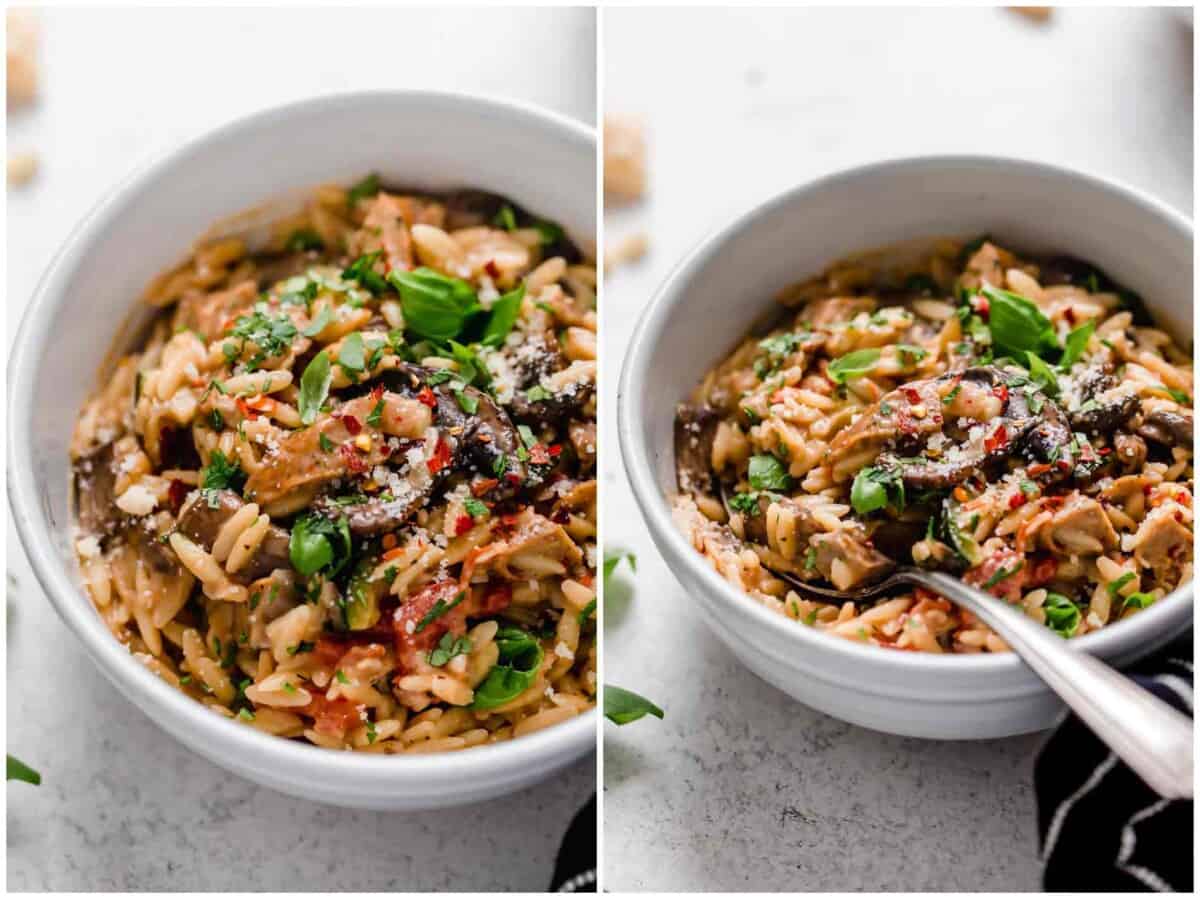 What kind of chicken sausage should I use?
Use pre-cooked chicken sausage. Not fresh.
It can be any taste!
Can I use a different kind of sausage?
If you want to use a different kind (such as beef or pork) pre-cooked sausage, be sure.
I can't have dairy
Yes, that's no problem. You can omit the heavy cream.
The orzo gets pretty creamy, but the heavy cream just gives it an extra splash of decadence.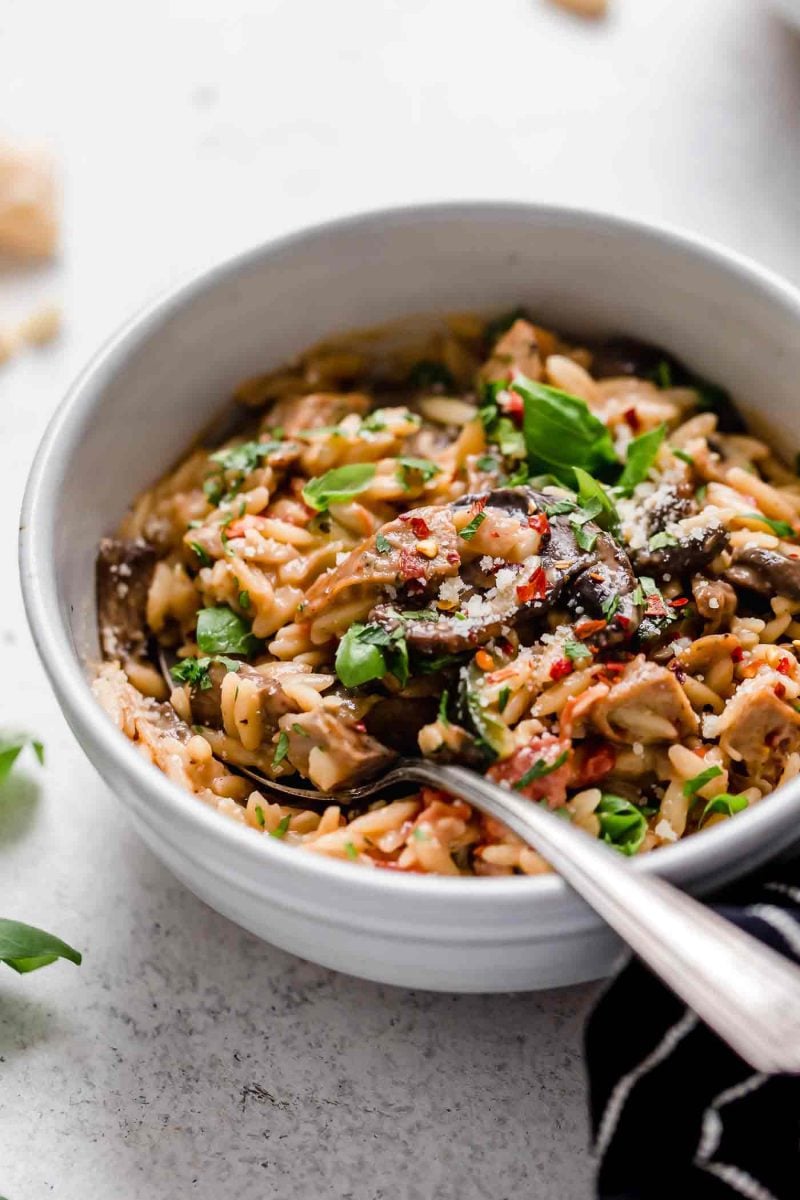 Is this spicy?
No, but you can make it spicy if you like by adding crushed red pepper flakes to it.
My orzo is crunchy
This means that it is not yet cooked through. Keep cooking!
My liquid is all gone, but my orzo is not done cooking
Add a little more chicken stock / broth, cover, and let it continue to cook.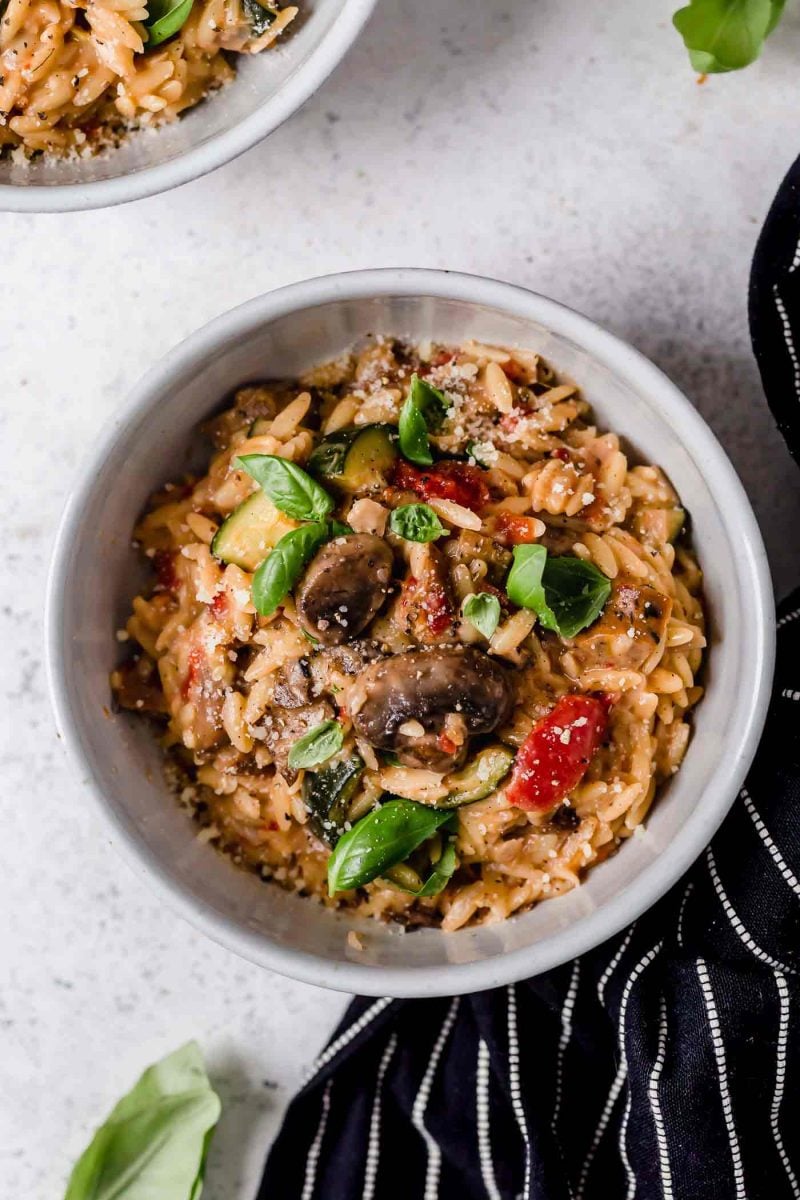 One-pot creamy creamy orzo with chicken sausage fits well with these side dishes:
Best summer tomato salad
Roasted parmesan carrots
Garlic toasted green beans
Baked potatoes
Parmesan pistachio chips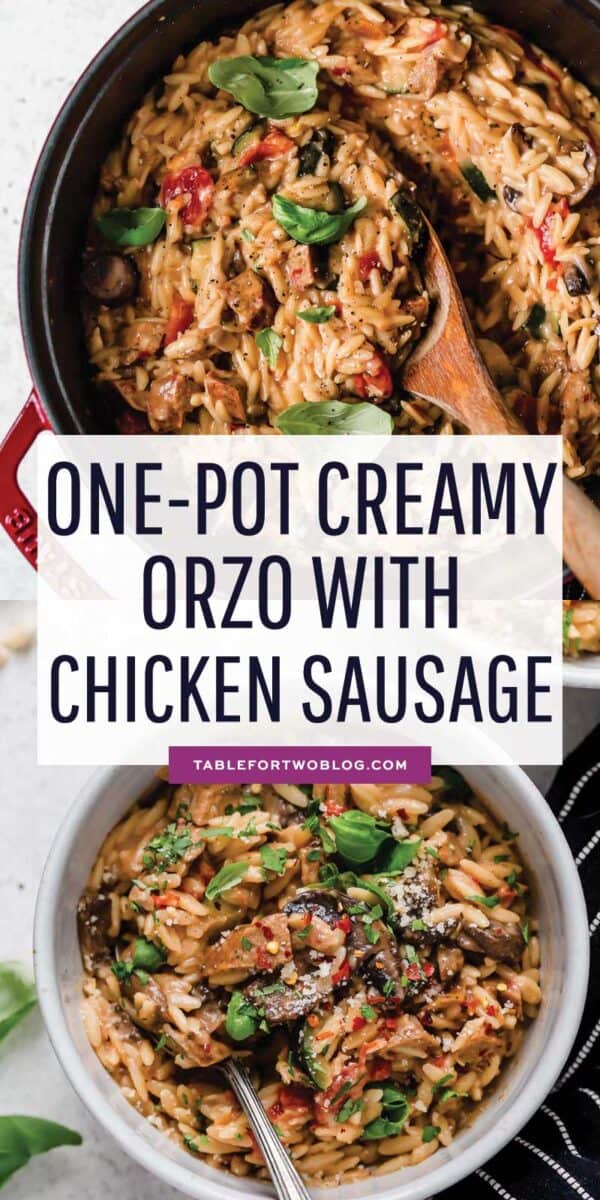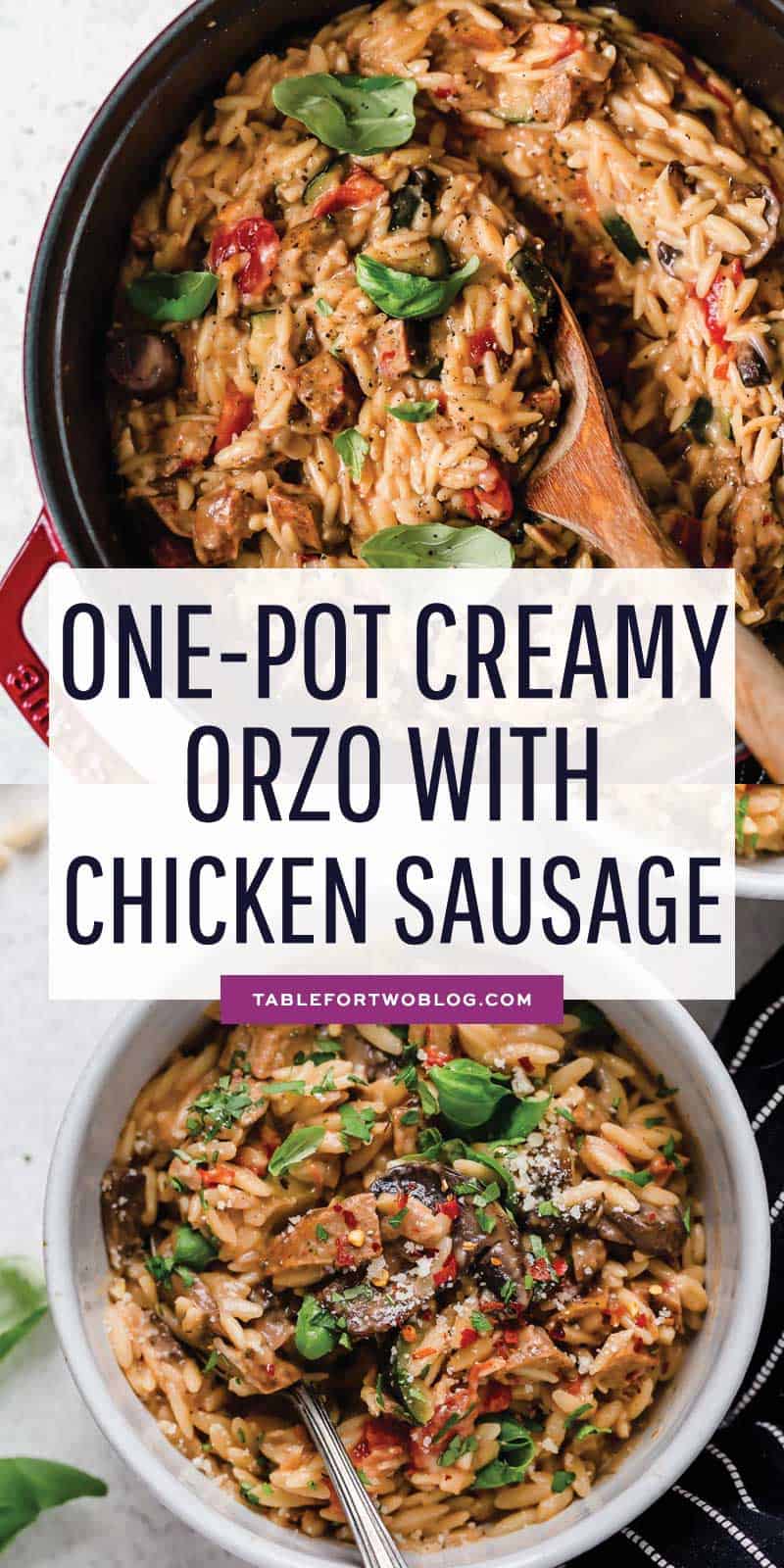 One-pot creamy orzo with chicken sausage
This creamy orzo with chicken sausage is an easy 30-minute weekday meal that can be customized to your palate! Preparation time: 10 minutes Cooking time: 20 minutes Total time: 30 minutes Calories: 394kcal
ingredients
1/2 large zucchini, sliced ​​into round slices and then quarter
4 oz white button mushrooms, slices
3 cloves of garlic, chopped
1/2 large onion, chopped
3 full cooked chicken sausage links, slices in round slices and then quarter together, any brand
1 1/2 cup orzo
2 cups low-sodium chicken stock or broth
7 oz canned dice with dice
Sprinkle with heavy cream
Salt and pepper, to taste
Instructions
In a large saucepan, over medium-high heat, heat 1 tbsp. olive oil and add the garlic. Cook until fragrant, about 1 minute. Add the onion and zucchini. Cook stirring occasionally, until tender, about 4-5 minutes. Add mushrooms and sausage. Cook until the mushroom is reduced in size, approx. 2 minutes.
Add the orzo in the pan and stir it constantly for about a minute, stirring constantly. Carefully add the chicken stock, bring to a boil, then turn down the heat to low and cover and cook for 10 minutes, or until the orzo is cooked through. Stir in the diced tomatoes and add sprinkle the cream (about 1 tablespoon). The mixture must still be creamy due to the starch from orzo. If it is still slightly runny, cover and let it cook for another 5 minutes. Add salt and pepper to taste.
Serve hot.
Store in an airtight container in the refrigerator for up to 5 days.
notes
Nutrition facts One-pot creamy orzo with chicken broth quantity per Serving (1 serving) calories 394 calories from fat 63 % Daily Value * Fat 7g11% carbohydrates 58g19% Fiber 3g12% Sugar 6g7% protein 25g50% * Percent daily values ​​are based on a 2000 calorie diet. * Nutrition facts are an estimate and are not guaranteed to be accurate.
Photographs by Jesse Reilly