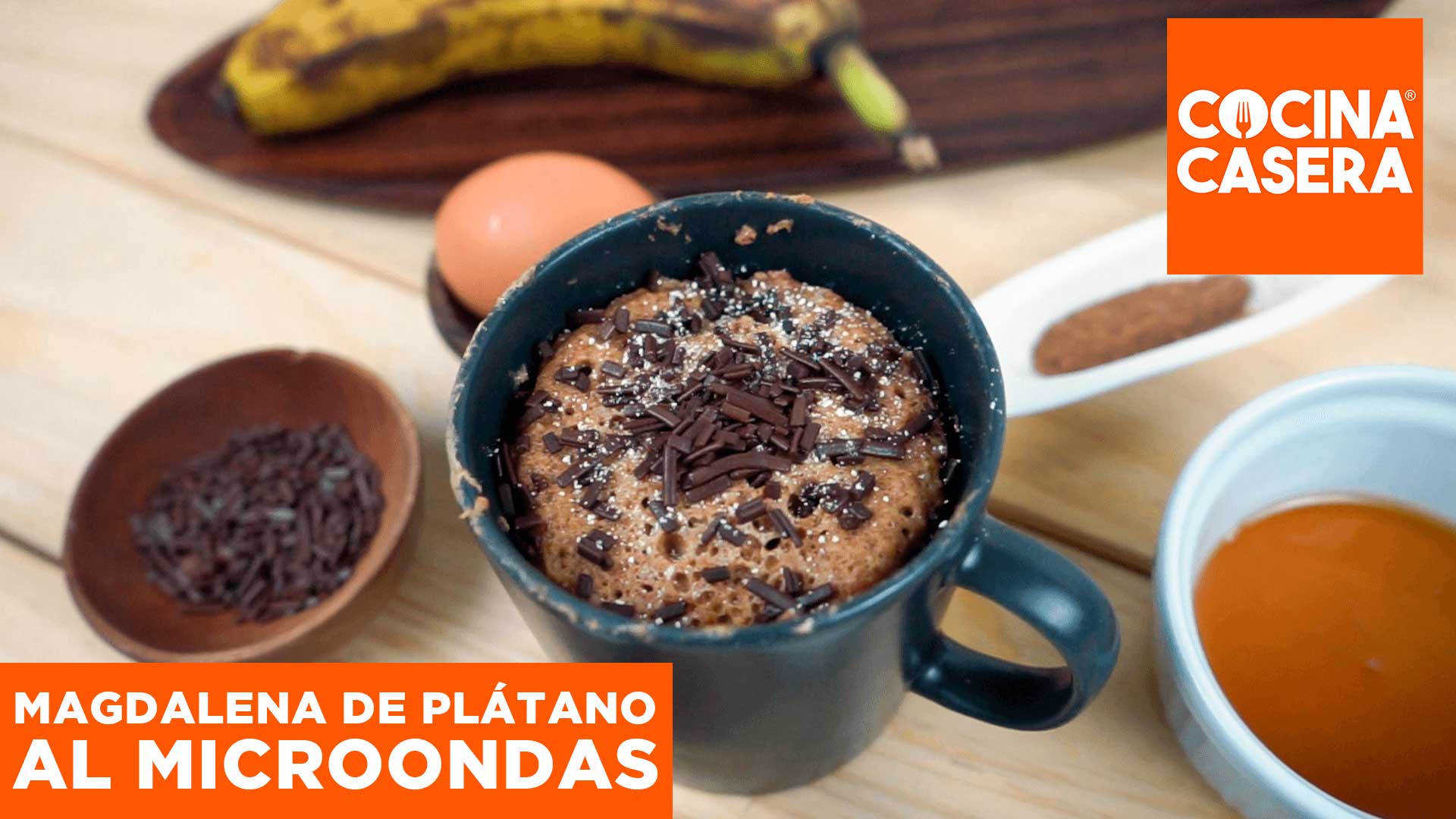 6 m Calories: 90 Easy 1 person
Hello Cocinacas! Today we want to surprise you with a new one banana muffins recipe you're going to love it. It is very easy to make and takes no more than 5 minutes, because we use the microwave for cooking.
In our dessert recipes you will find delicious and original ideas to prepare at home. You will find that they are also very simple and varied, with or without fruit, sweet and even salty, like this apple pie that you can share with whoever you want.
If you don't have time to turn the oven on, but you want cupcakes, we recommend making them in the microwave. They will not be the original shape, but they will be just as rich and fluffy.
We chose to make banana muffins because it is one of the most consumed fruits in the world, because of its many properties and because it is not seasonal. This means we can eat it every month of the year. In Spain we mainly consume the Canary bananas, which in 2013 received the seal of Protected geographical identification (IGP), because it is a unique and high-quality product. These are grown on six of the seven Canary Islands: Tenerife, La Palma, Gran Canaria, EL Hierro, La Gomera and Lanzarote.
The banana is also one climacteric fruitwhich means it continues to ripen after it is harvested. So you can buy green bananas and let them ripen at home until they are to your liking. If you have one that you think is happening, make use of muffins. Here we tell you how.
Ingredients for 1 person
Protein – 1 unit
Banana – half a unit
Honey – 2 large tablespoons
Flour – A quarter cup
Cinnamon – Half a small spoon
Yeast powder – Half a small spoon
How to Make the Microwave Banana Muffins Recipe
Before we start cooking, we need to choose a container that is resistant to the heat of the microwave. We are going to make it in a cup. In it we add the protein, carefully when we separate it well from the yolk.
Then we add the two large tablespoons of honey and we remove it and mix everything very well with the help of a fork. Now it's the turn of half a small spoonful of cinnamon, half a spoonful of baking soda, and the quarter cup of oatmeal (or the one we prefer). We remove everything well again, until the mixture is homogeneous.
We cut half a banana into slices and add it to the mixture of ingredients. We mix it for the last time and now we take it to the microwave where we will have it at maximum power for 60 seconds. Finally, we can decorate it with powdered sugar, chocolate chips, cinnamon, cream, chia or whatever we like.
Comments and tips
As we always tell you, the time it takes in the microwave depends on the maximum power it has. It is a matter of testing until it suits you perfectly. We recommend that you write down the times so that the next time you make this recipe, you will know the optimal time and they will be good right away.
We hope you liked our recipe. As you have seen, it is very simple and you can do it anytime to eat them fresh.
What is your favorite topping for these fried banana muffins? Tell us through the comments. Of course you will be delicious.
If you like, you can also make the blueberry muffins in the microwave for another day. Take advantage of season months of these fruits because they will have more flavor and they will also be cheaper than the rest of the year.
See you soon, Kitchen!
If you liked this Microwave Banana Muffins recipe we advise you not to miss out more Dessert Recipes Follow us on YouTube where we have over 1,000 free videos for you. CLICK HERE. Desserts recipes