Sago is the starch extracted from slips of tropical palm trees and is commercially produced and often sold in the form of pearls. They are usually cooked in water or choice of liquid and widely used in drinks and desserts. These balls are really easy to cook and only require mostly boiling in water until they are translucent. But if you want them cool or what I describe as "a bite with a fight", I follow a specific technique for how to cook sago.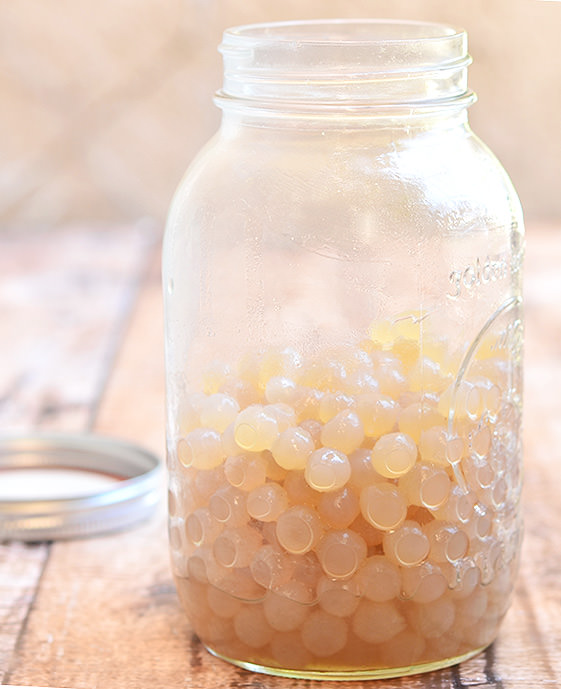 I usually store freshly prepared sago in a bowl of cold water until ready to use, but if I plan to keep the batch longer than a few days, I store the sago in a sterilized bottle of simple syrup to extend shelf life. I included a recipe for packing syrup using brown sugar. Here are some fun things you can use sago:
Ginataang Bilo Bilo – a delicious combination of palm fruits, tubers, banana, glutinous rice balls, jackfruit and sago stuffed in coconut milk
Sago by Gulaman – a refreshing summer cooler made with Gulamanic cubes, sago and simple syrup
Ginumis – a smooth-shaved dessert, like the classic Philippine halo-halo, but using Gulamanic cubes, sago, pinipig and coconut milk
Buko salad drink- a must try! a rich and creamy drink filled with Gulamanic cubes, young coconut strips, nata de coco, sago, condensed milk and coconut milk
How to cook Sago
Prepare time 5 minutes Cooking time 1 hour Total time1 hour 5 minutes
ingredients
water
1 pack of 14 ounces of prepared sago beads
For the simple syrup
2 cups brown sugar
2 cups of water
Instructions
In a saucepan over medium heat, bring enough water to cover sago beads in a boil. Add sago beads, stir gently and cook for approx. 10 minutes or until translucent. Remove from heat, rinse well and drain.
Add cooked sago and enough cold water to cover in the pan. Cook over medium heat while stirring occasionally and cook lightly. When the water is boiled for approx. 6 to 10 minutes, remove from heat, rinse well and drain.
Add enough cold water to the pan to cover the sago and again bring to a gentle boil. Repeat the process until the beads are tender but chewy and translucent without white in the middle. Rinse sago a few times under cold, running water to remove excess starch. Let it cool. Use as needed, or store in simple syrup until ready to use.
For the simple syrup
In a saucepan over medium heat, combine sugar and water. Cook under stirring regularly until the sugar has dissolved. Let it cool slightly. Transfer sago into a clean bottle and pour syrup into.