Simple, 30 minutes Land Beef stroganoff with sautéed and tender onions, mushrooms and a sweet creamy sauce. Serve over egg noodles or mashed potatoes for a complete crowd-pleasing meal.
Serve this stroganoff with an Italian garden or with some roasted vegetables.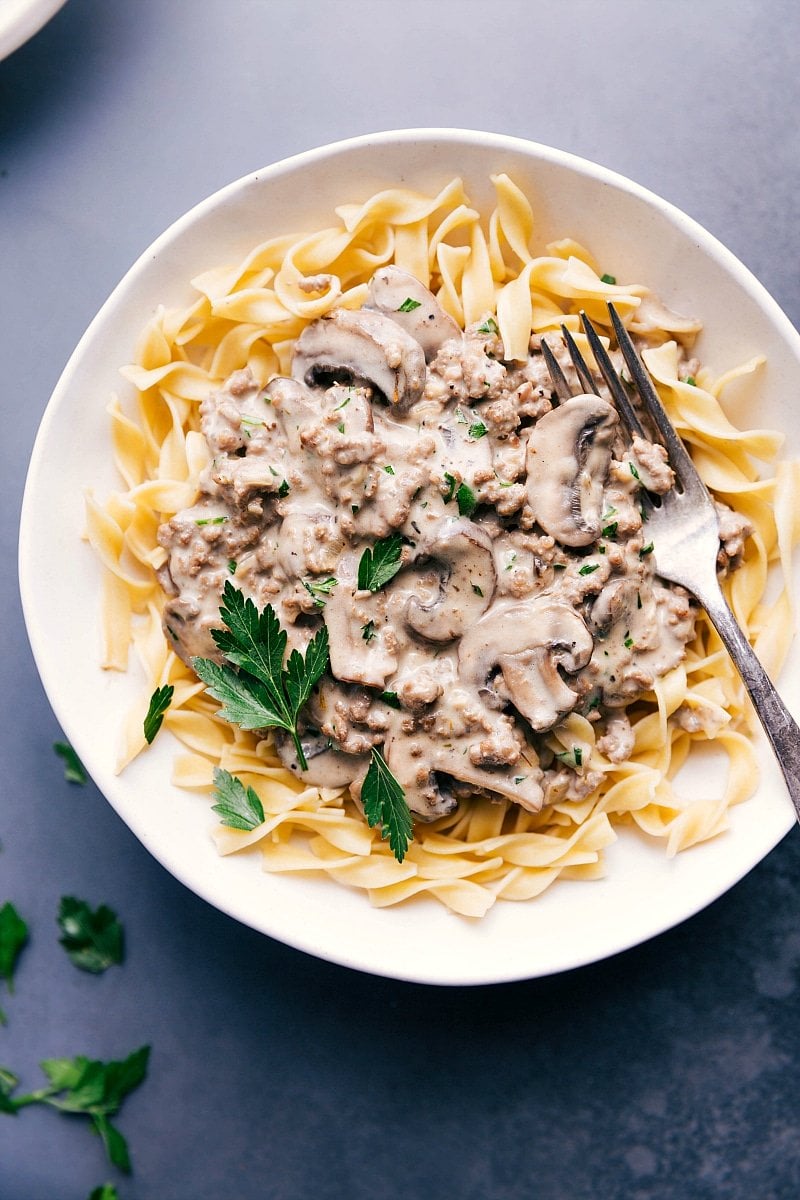 30 minute pantry staple meal
Another day, another pantry staple recipe! I hope these "pantry staples meals" are helpful to you at this time. If there are any specific recipes you would like me to work on, please email me or leave a comment on this recipe. I want to help, but I can!
Two of the most common ingredients many of you have (when polled on Instagram) are land beef and noodles.
This goulash that I shared the other day contains both beef and noodles, just like this Ground Beef Stroganoff does. The rest of the ingredients in this recipe rely on pantry / fridge staples such as beef stock / broth, beef broth, spices and Dijon mustard. And with the required fresh ingredients, most of them are shelf-stable in good time – onions, garlic, sour cream, butter and heavy cream.
This meal is gathering quickly; it is ready in about 30 minutes and is a meal that the whole family will enjoy.
How to Make Ground Beef Stroganoff |
Put onion and garlic until translucent (about 3-4 minutes). Be sure to use a nice, heavy pot like this one.
Cook the ground beef, crumble as you go, until browned through. To get a nice tan on the meat (browning = taste), leave the beef undisturbed for approx. 30 seconds per Side before breaking up.
Boil mushrooms. When the meat is browned, add the mushrooms with a little butter. Once the mushroom has started to become tender, add spices and flour. The flour is getting thicker as we are about to make.
Create the sauce. After the spices and flour are added, it is time to finish the sauce. Pour beef stock (or broth) then stir in heavy cream, Worcestershire sauce and Dijon mustard. Lay everything together until thick and tender.
Finish the dish. Remove the pan from the heat, stir in the crème fraiche and then finish it off with fresh herbs. Read below for a few options on how to serve this tasty dinner.
Serve with
Egg noodles: Our personal favorite way to enjoy Ground Beef Stroganoff! Boil the egg noodles separately in salted water and then serve the creamy stroganoff on top.
Over mashed potatoes: Prepare a batch of your favorite potatoes and make this beef roast right on top.
About rice: Roast this stroganoff over some hot cooked rice.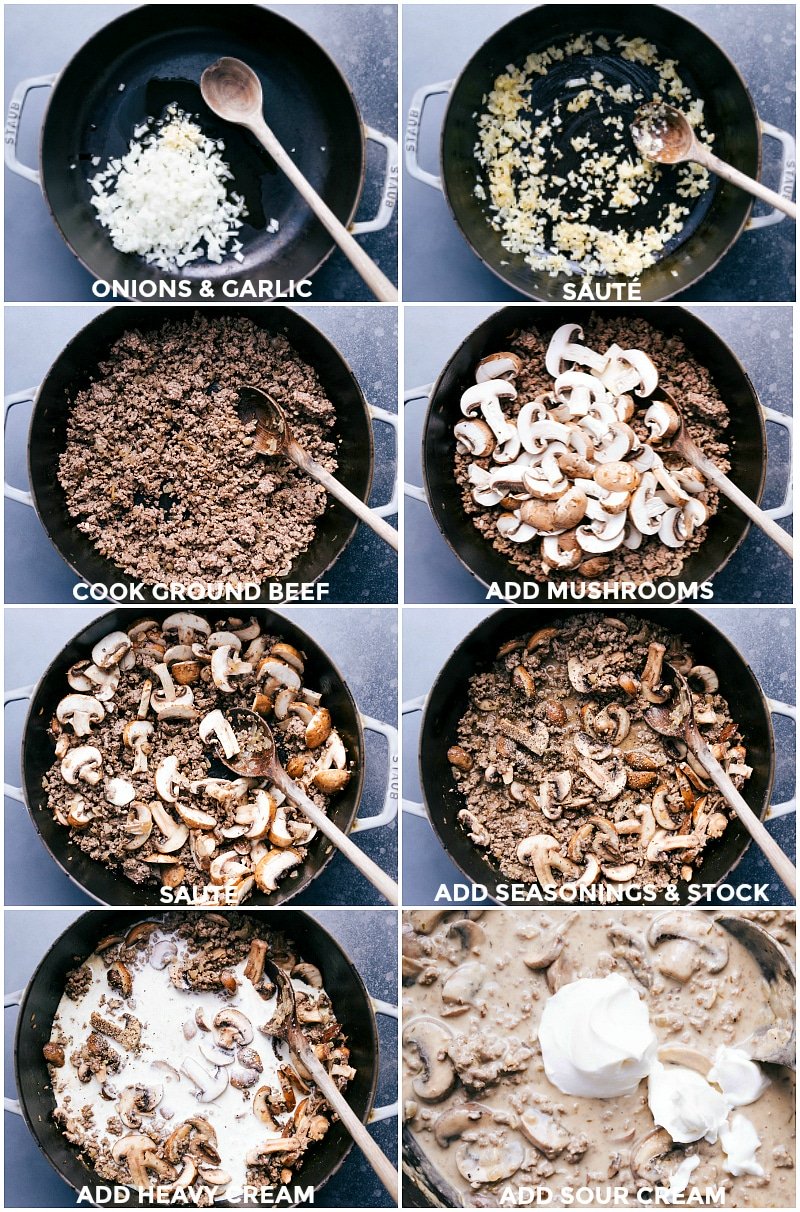 Ground Beef Stroganoff tip
add cream fraiche in the cream sauce from the heat to prevent the sauce from cutting.
If you have fresh parsley to the top of this stroganoff, add it; it adds such a lovely flavor and cuts down on the richness of the sauce.
Don't forget to do it season this dish (and taste for additional spice at the end), otherwise it will taste flat. It is also important to add salt to the pasta water. (Read about how to properly salt the pastor water here.)
variations
Change the mushrooms up. We like cremini mushrooms best, but white mushrooms or portobello also work. You can even use a combination of a few different kinds.
Use plain Greek yogurt instead of sour cream if necessary; however, it will change the taste a bit. I personally, I like fat-free or light cream fraiche in this dish!
Add 1 teaspoon pepper and / or a pinch of red pepper flakes too little spice.
Add 2-3 sprigs of fresh thyme instead of dried if you have it available.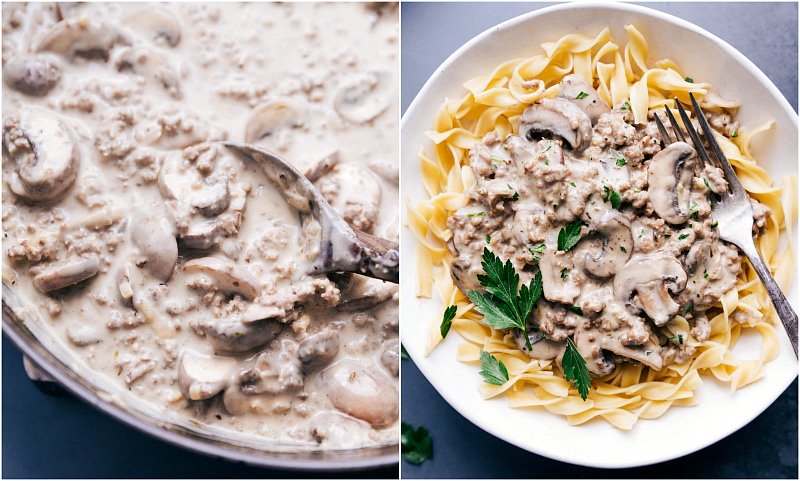 Remaining storage
Store leftovers in an airtight container in the refrigerator for 3-5 days.
Because of all the dairy in the sauce, I do not recommend freezing this dish; it does not thaw well and is likely to need to be dressed when reheated. I would recommend halving the recipe instead!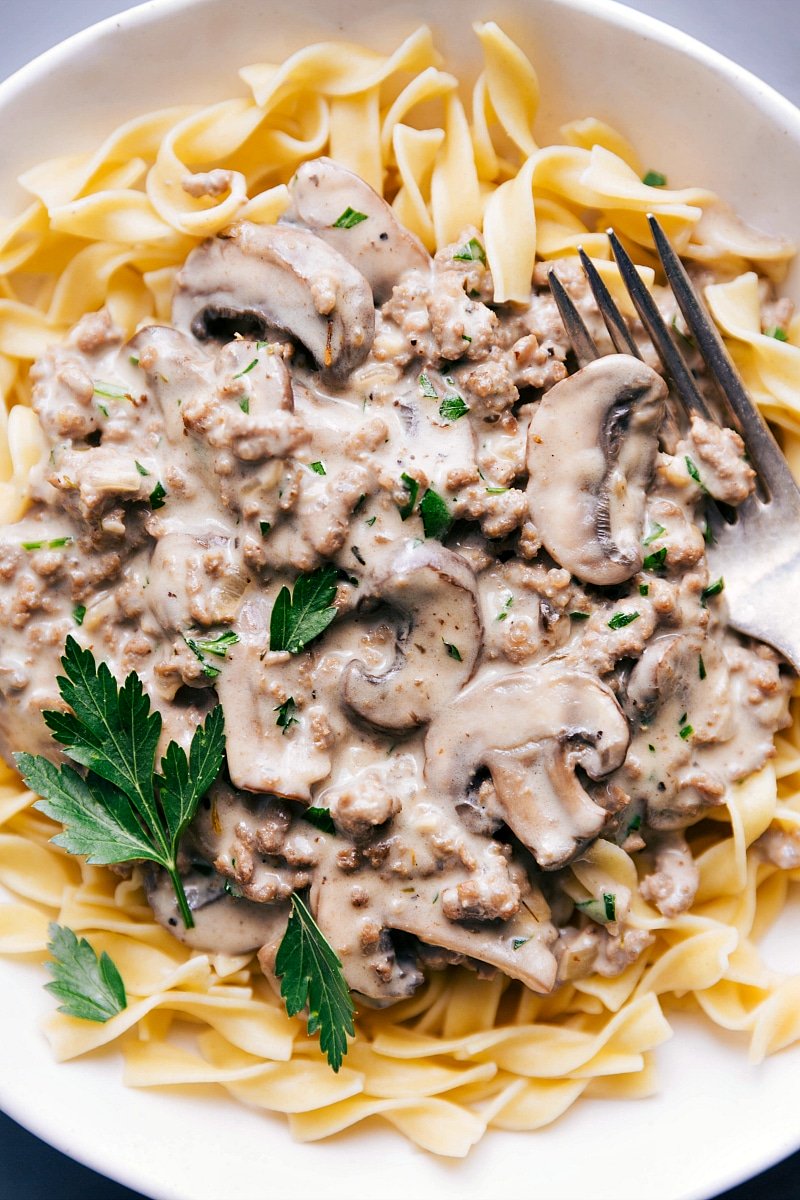 Several recipes using ground beef
Ground Beef Stroganoff
Simple, 30 minutes Land Beef stroganoff with sautéed and tender onions, mushrooms and a sweet creamy sauce. Serve over egg noodles or mashed potatoes for a complete crowd-pleasing meal.
Course: Dinner, main course
Food: American
Keywords: ground beef stroganoff
Servings: 4 servings
Calories: 533 kcal
ingredients
1 tablespoon olive oil
1 cup fine diced yellow onion (~ 1 small onion)
2 teaspoons minced garlic (~ 2 cloves)
1 pound lean (90/10) ground beef
1 tablespoon unsalted butter
1 pack (8 ounces) sliced ​​cremini mushrooms
Fine sea salt and pepper
1/2 tsp dried thyme
3 tablespoons white flour for all purposes
1 cup of beef (or beef broth)
1 cup heavy cream
1/3 cup light (or plain) cream fraiche
1 tablespoon Worcestershire sauce
1 tsp Dijon mustard
1/2 tsp beef broth powder
8 ounces medium egg noodles
Optional: fresh flat leaf parsley
Instructions
PASTA: If serving over pasta, start by bringing a large pot of water to a boil. When cooked, add a generous amount of salt (about 1/2 tbsp). When cooked and salted, add the pasta and cook it according to package directions. Empty when cooked through (I try to put the pasta in motion until the meat sauce will be done).

Onions, garlic and beef: Preheat a large, deep cast iron pan or pan over medium-high heat. Add 1 tablespoon of olive oil and add 1 cup dice, yellow onion and 2 teaspoons chopped garlic at once. Stir until onion is translucent and starts to turn golden, approx. 3-4 minutes; reduce heat if necessary. Press the onion and garlic to the side and increase the heat to high. Add 1 pound of ground beef in the center of the pan. Leave undisturbed for 30 seconds, then flip and break up. Leave the other side for approx. 30 seconds, then continue to cook the beef, breaking it up into small pieces until it is no longer pink. Season the beef as desired with salt and pepper. If there is anything burning / sticking to the pan, add an extra shower of olive oil or reduce the heat a little.

MUSHROOMS: When beef is cooked through (no longer pink) add the 8 ounce slices of mushrooms and 1 tablespoon butter. Saute for 3-4 minutes while stirring constantly. Add 1/2 teaspoon of dried thyme and stir for 30 seconds. Then mix in the 3 tablespoons of flour and stir. Cook for 1 minute to remove the bowl with a flowering flavor.

GRAVY : Add 1 cup of beef and scrape any browned bits that may have formed at the bottom of the skillet. Stir in 1 cup heavy cream, 1 tablespoon Worcestershire sauce, 1 teaspoon Dijon mustard, and season to taste with salt and pepper. Add 1/2 teaspoon of beef broth powder. Reduce heat to low and simmer for 3-5 minutes, or until thick, stirring frequently.

FINISHING: Remove the pan from the heat and stir 1/3 cup of the crème fraiche. Stir to combine everything and season to taste if more is needed. Serve over cooked noodles and top with fresh parsley.