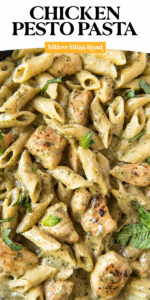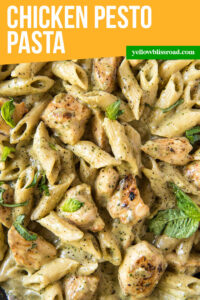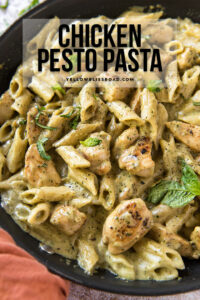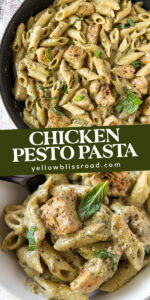 Learn how to make a creamy chicken plague pasta meal in under 30 minutes with this simple recipe! Creamy, cheesy and full of flavor, this dish is quickly becoming a new favorite!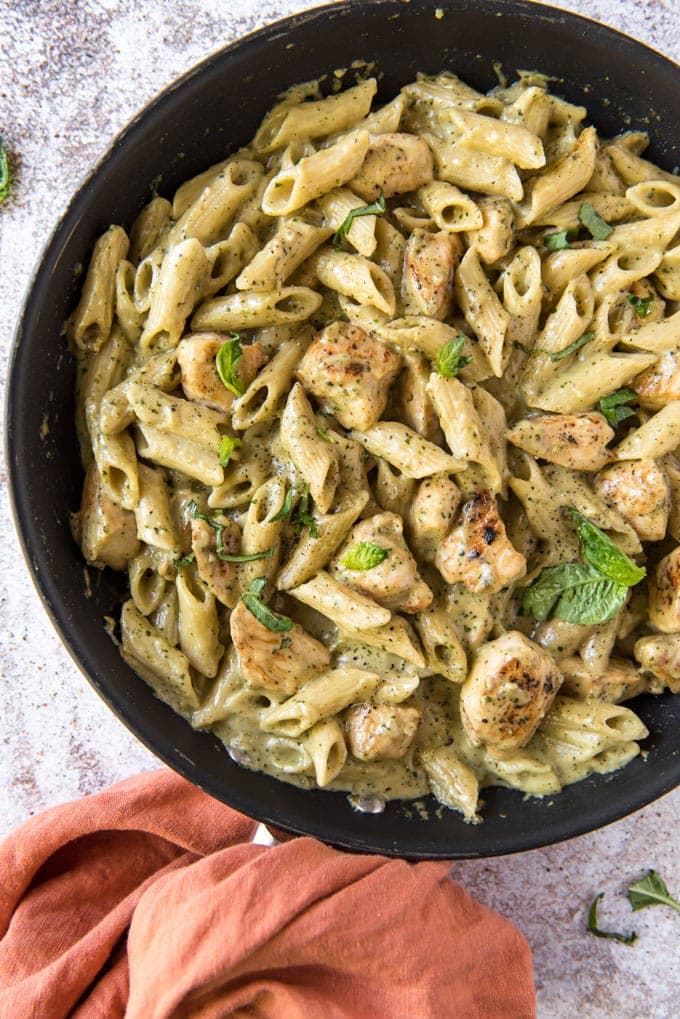 Quick and easy weekday dinner
Dinner time can be stressful when time is limited, which is why I always have recipes like this in my back pocket. It's super easy to make and that creamy pesto sauce is to die for!
It was a little accidental, as this chicken pesto paste became. I had a lot of nut-free pesto leftovers from recipe testing and didn't want it to go to waste. My husband orders pesto in his pasta all the time at Italian restaurants, so I thought I'd gather a few of his favorite things in one dish, and it was magic.
The whole family raved about it, plus it only took me 30 minutes to do! It's the best kind of win.
Creamy pesto sauce
I went back and forth and decided how to make a creamy pesto sauce for this chicken pasta. Alfredo style seemed too heavy so I decided to make some kind of bechamel.
Melt some butter in a deep frying pan or saute pan, then whisk flour. Let it cook for a few minutes until it is like a thick paste and golden in color.
Pour chicken broth and milk or cream in. Nonfat milk will cut some calories, but a cream or even half and half will make it so smooth and creamy. Simmer for several minutes until thick. Do not boil it or it may burn. You just want a nice simmer with bubbles coming to the top.
Remove from the heat and stir in pesto sauce and cheese.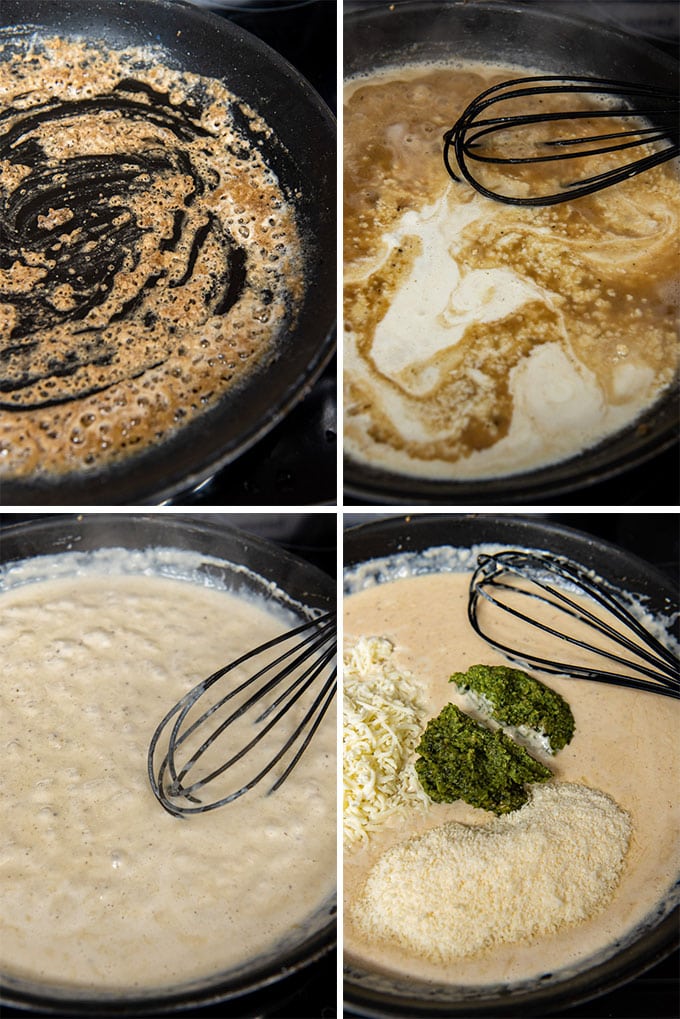 How to make chicken pesto paste
Cook chicken on the stove with a little garlic and Italian seasoning. Season with salt and pepper and set aside on a plate. Use the same skillet to make the creamy pesto sauce.
Cook your favorite pasta according to package directions. Drain the water and set it aside with the chicken.
Combine the chicken, pasta and sauce together in the skillet. Serve chicken pestle pasta garnished with freshly chopped basil.
Shows suggestions and variations
With chicken, pasta and a creamy pesto sauce, this is a pretty heavy meal. I like to serve it with a simple garden salad on the side. If I feed with a larger audience, I also whip up a loaf of garlic bread.
Another option is to add some veggies to the pesto paste. Fresh spinach, sun-dried tomatoes, yellow squash, mushrooms or cherry tomatoes would all be amazing in this dish.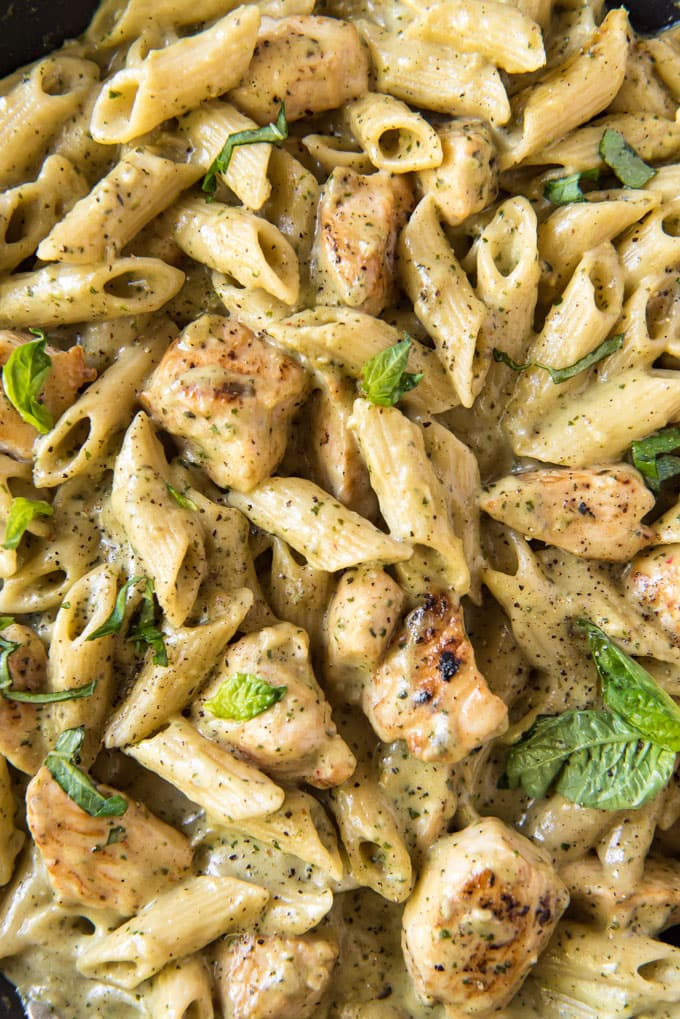 What to do with leftovers
Residual chicken pesto pastas are good for up to 4 days in the refrigerator if stored properly in an airtight container. Freeze for up to 4 months and thaw in the fridge when you're ready to eat. I recommend reheating on the stove, at low heat and adding some milk to prevent it from drying out.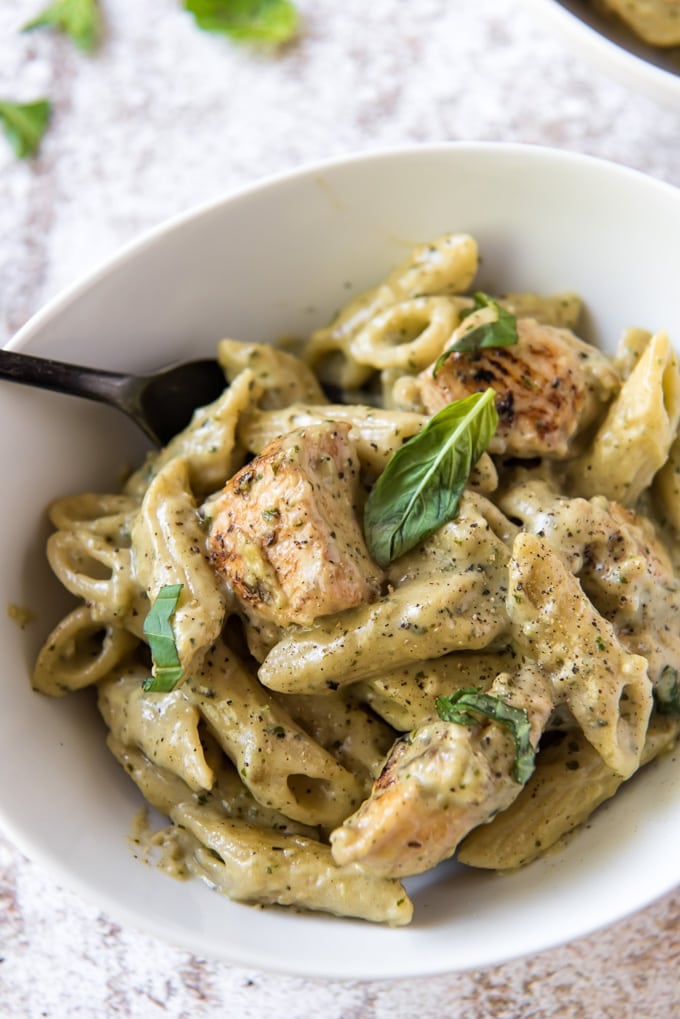 More pasta recipes
Looking for some more lightweight pasta recipes that can be added to your recipe box? Try these:
Creamy chicken pesto paste
Chicken and pasta tossed in a creamy pesto sauce.
Course: Main courses
Food: American, Italian
Keywords: chicken pesto, creamy pesto sauce, pesto paste
Preparation time: 10 minutes
Cooking time: 20 minutes
Total time: 30 minutes
Servings: 4 servings
Calories: 784kcal
ingredients
½ pound pen pasta about 2 1/2 cups dry (half a 1 pound box)
1 tablespoon olive oil
2 garlic cloves minced
1 tsp Italian spice
1 pound boneless skinless chicken breast cut into bite-sized chunks
Salt and pepper to taste
2 tablespoons butter
3 tablespoons flour
1 cup chicken broth
1 cup half and half or all milk / cream
½ cup fresh grated parmesan
1 cup fresh shredded Mozzarella
½ cup fresh basil pesto or more, to taste
Fresh basil for garnish if desired
Instructions
Cook pasta to al dente according to packing instructions. Empty and take it aside.

Heat a large skillet over medium heat, and add the minced garlic, Italian seasoning and chicken breast diced. Season with salt and pepper, and cook until the chicken is no longer pink, stirring the chicken a few times to brown on all sides. Transfer the chicken to a plate and discard any liquid in the skillet.

Return the skillet to the oven over medium heat and melt the butter. Beat the flour and cook until golden, approx. 3 minutes.

Whisk the chicken broth half and half in, and cook it up. If it starts to boil too quickly, turn down the heat a little. Alarm for about 5 minutes, or until the sauce has diminished and thickened.

Remove from the heat and stir in the pesto and cheese. Add the pasta and chicken and stir to coat. Garnish with freshly chopped basil and freshly cracked black pepper.
notes
Optional addition: fresh spinach, sun-dried tomatoes, yellow squash, mushrooms, cherry tomatoes.
Nutrition
Calories: 784kcal | Carbohydrates: 54 g | Protein: 47g | Fat: 41 g | Saturated fat: 17 g | Cholesterol: 146 mg | Sodium: 1082 mg | Potassium: 709 mg | Fiber: 3g | Sugar: 3g | Vitamin A: 1345IU | Vitamin C: 6 mg | Calcium: 425 mg | Iron: 2 mg