Chicken Street Tacos. Tasty, grilled chicken that is diced and put on soft corn tortillas. Add your favorite toppings and enjoy!
Street taco is a classic! They are typically found in local taco shops, but they are so easy to make at home. Street tacos are perfect in their simplicity. Soft corn tortillas are layered and stuffed with grilled meat – chicken, beef or pork. Top with a simple mixture of diced onion, coriander and a lime wedge.
How to Make Chicken Street Tacos:
Marinate the chicken. Let the chicken marinate for 2-4 hours. This gives a good flavor and helps to soften the meat. Due to the amount of lime juice in the marinade, it is not recommended to marinate more than 4 hours.
Grill the chicken. Can be cooked on stove or grill. Cook the chicken for approx. 5 minutes on each side until the internal temperature reaches 165 ℉.
Dice of chicken and stuffing on tacos.
Add your toppings. Some ideas are shown below.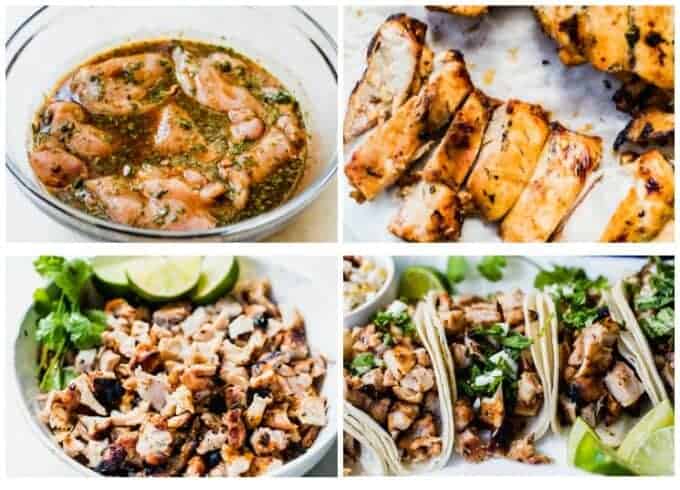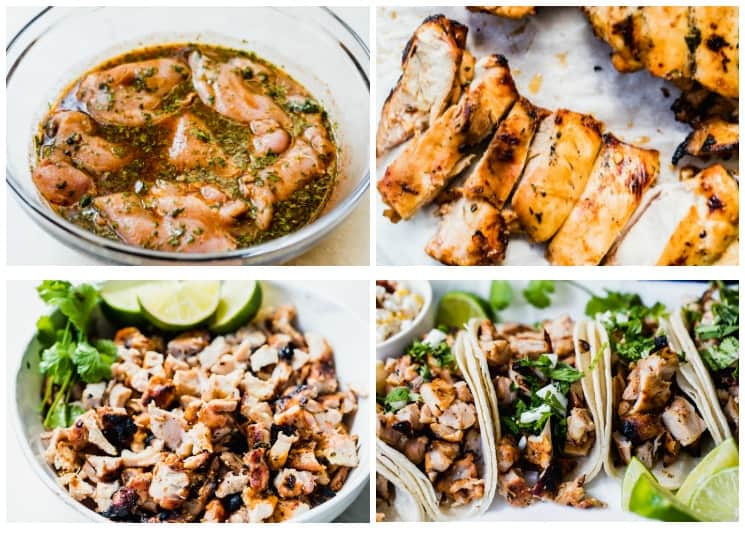 Tips for Making the BEST Grilled Chicken Street Tacos:
Type of chicken: Chicken thighs have a combination of light and dark meat and cook up more juicy and tender than chicken breast. Legless, skinless chicken thighs can typically be found on the market, making them easy to use.
marinate: Allowing the chicken to marinate full time ensures that the meat is flavorful and tender.
Grill: the best flavor comes from grilling the chicken, this adds a bit of smoking and a bit of char to the chicken.
Hot corn tortillas. Warming tortillas helps soften them and makes it the place where they will not crack and split when filled. Heat on a stove, directly over the flame of a gas grill or on a heat proof plate in a microwave oven.
Toppings for Street Tacos:
Dice & coriander: this is a common combination that is added in most taco shops.
Lime juice: a wedge of lime to squeeze over the top of the taco before enjoying.
Healthy salsa: pico de Gallo is a wonderfully light, fresh topping with tomatoes to add.
guacamole
Sour cream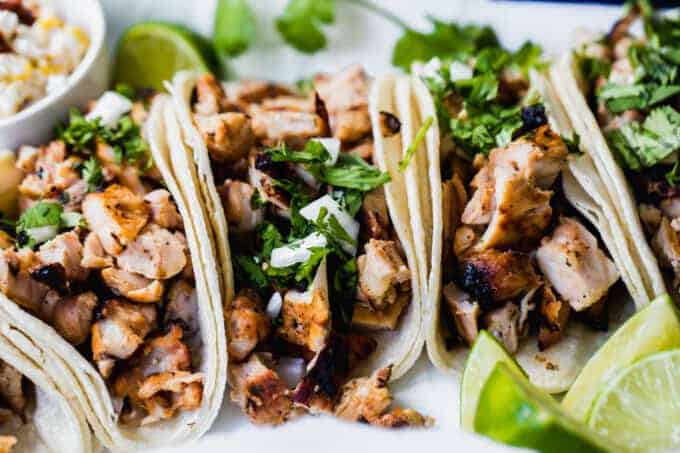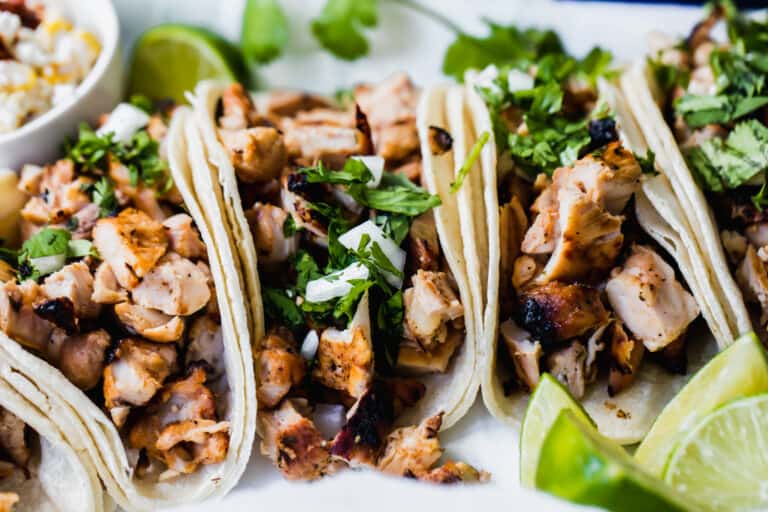 What to serve with these grilled chicken tacos:
2 kg of chicken, thighs, boneless and skinless
¼ cup lime juice, freshly squeezed
6 fl oz. pineapple juice
¼ cup of coriander, cubes
2 cloves of garlic, chopped
1 tablespoon worcestershire sauce
2 tablespoons apple cider vinegar
1 tablespoon oil, avocado, extra virgin olive oil or vegetable oil
1 tablespoon chili powder
1 tsp ground cumin
1 tsp ground black pepper
1 teaspoon salt
20 corn tortillas
toppings
¼ cup of garlic, cubes
2 tablespoons coriander, cubes
In a medium-sized mixing bowl, combine the ingredients for the marinade. Whisk together.

Add the chicken and immerse in the marinade. Cover and place in refrigerator to marinate 2-4 hours (for marinating can cause mushy chicken).

Preheat the grill to 425 ℉.

Remove chicken from marinade and pat dry.

Place the chicken over direct heat on the grill and cook for 3 minutes, then flip the chicken. Cook another 3 minutes.

Move the chicken to a more indirect heat on the grill, cover and cook for another 5-7 minutes until the chicken reaches an internal temperature of 160 ° F in the thickest part.

Let the chicken rest (the internal temperature will continue to rise to 165 ° F). After resting, the chicken can be chopped.

Prepare corn tortillas by heating to soften. Using a bowl or skillet over medium heat, heat the tortillas briefly for 15-20 seconds on each side. Or place tortillas on a heat proof plate and microwave for 30 seconds.

Place the tortillas, if desired, using two tortillas and fill with the diced chicken. Top with the diced onions and cilantro or additional toppings as desired.
Calories: 298 kcal, carbohydrates: 34 g, protein: 14 g, fat: 12 g, saturated fat: 3 g, cholesterol: 41 mg, sodium: 397 mg, potassium: 310 mg, fiber: 5 g, sugar: 3g, vitamin A: 413IU, vitamin C: 6 mg, calcium: 71 mg, iron: 2 mg
House of Yumm is a participant in the Amazon Services LLC Associates program, an affiliate advertising program designed to provide us with a means to earn fees by linking to Amazon.com and affiliate sites.
Never miss a recipe
Subscribe to receive new posts by email.