Light and nutritious Chicken Quinoa Bowl collects cilantro lime quinoa, marinated chicken and a fresh mango black bean salsa.
Love bowl-type meals? Us too! Try these banh mi bowls, sweet potato couscous bowls or taco bowls next!
Chicken Quinoa Bowl
Marinate some chicken, prepare some quinoas and toss together a simple mango salsa for a seriously flavorful meal! Chicken Quinoa Bowls is one of my family's favorite meals. They are fresh, tasty and packed with good ingredients.
They also got a lot of protein thanks to the chicken, black beans, and quinoa! While there are a few steps to this meal, these bowls gather nicely as you will do half the work upfront by marinating the chicken. The rest of the meal can be prepared just before noon. To me, it always feels like it makes things easier to break up at noon.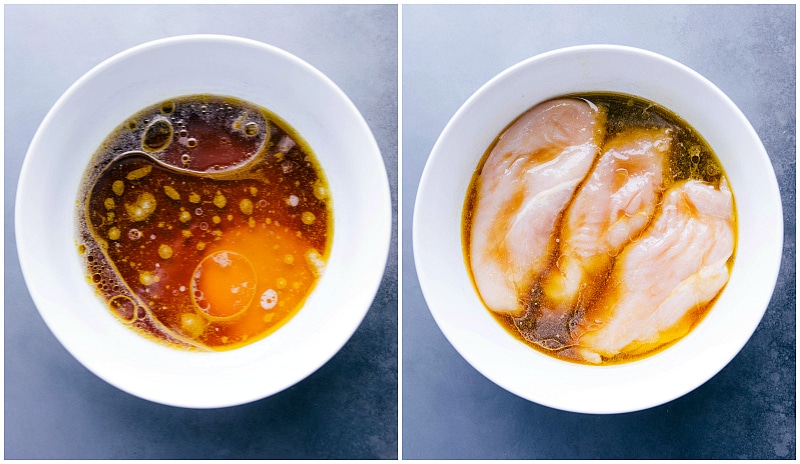 How to Make Chicken Quinoa Bowls
Whisk together the marinade ingredients. This marinade is delicious and so quick to whip together! It has Sprite® (or any lemon lime soda), soy sauce, olive oil, lime juice, garlic powder, honey and salt. Don't forget to reserve some of the marinade to brush on top of the chicken later while it is grilling.
Marinate. Place the chicken in the marinade mixture and refrigerate in the fridge for at least 30 minutes and up to 6 hours. Why not anymore? The acidity from the lime can start to "boil" and dry out the chicken.
Cook. Grill, bake or saute the chicken until it reaches 165 degrees F. (I'd like to take the guesswork out using a digital meat thermometer.)

Cooking times vary depending on several factors, so I always recommend using a thermometer to test your chicken while it is cooking. Aim to hit 165 degrees Fahrenheit. (Undercooked = uncertain; Overcooked = dry chicken)

Baste. When you grill the chicken, it is occasionally brushed with the reserved marinade. This will enhance the taste and make sure you taste all the delicious flavors.
Make the mango salsa. While the chicken is boiling, it is the perfect time to get the rice started and start on the salsa. More on salsa below.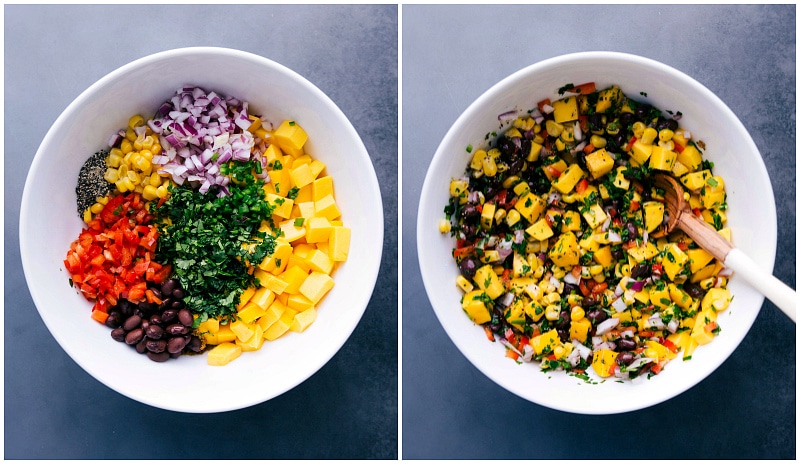 Mango salsa
There are few things I love as much as mango salsa and it is the best possible addition to these chicken quinoa bowls. This salsa is a little different from my usual mango salsa recipe as it has some corn and black beans in and no avocado (though feel free to add one if you like). Below are a few salsa tips:
Make sure that mango is fully ripe. This ensures top taste, texture and sweetness. We want a good sweet mango to complement the chicken.
I recommend honey mango for these chicken quinoa bowls (also called Ataulfo ​​mangoes). They are sweeter and creamier than regular mangoes and do not have the typical fibers anywhere.
Chop the ingredients even size for a congruent salsa. The more even sizes of everything, the more coherent the salsa is. See this guide for how to cut a mango!
If you like a little more spice in your salsa, add a little more jalapeño and / or sprinkle red pepper flakes. If you prefer salsa to stay on the mild side, reduce or omit jalapeño.
Juicer: This recipe requires fresh lime and lemon juice in the marinade and salsa, which can be a pain for juices by hand. I recommend a little juicer or citrus reamer – you don't need anything special or crazy expensive. This one is cheap and a great investment if you juice a lot of citrus.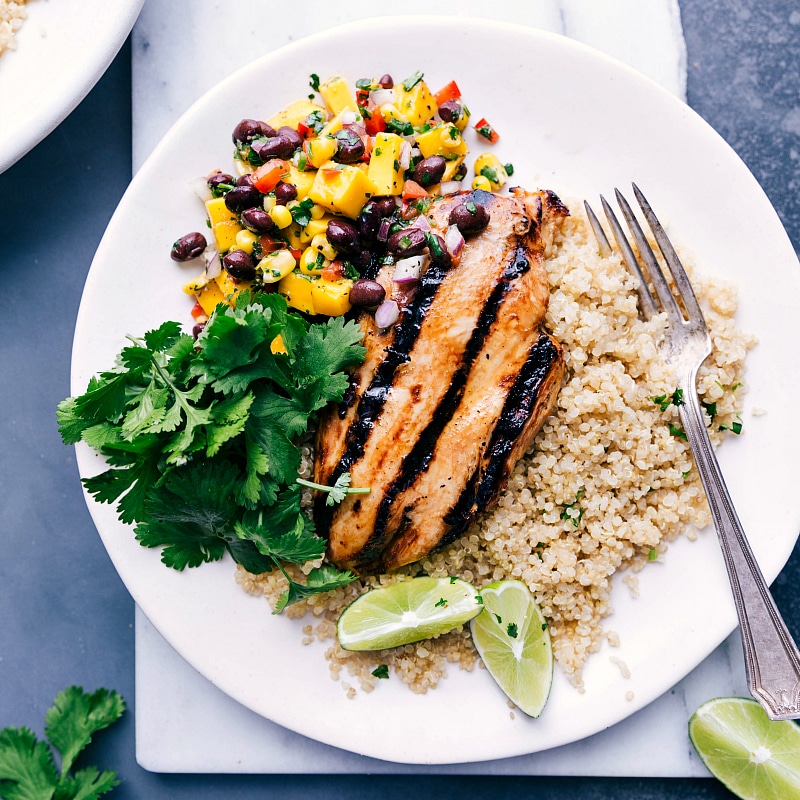 Chicken Quinoa Bowl tip
If you have extra thick / large chicken breasts, cut the chicken in half and / or beat the breasts (this is best achieved with a meat stew). The purpose is to have the chicken at an even thickness Before marinating. This allows the chicken to soak up more flavor from the marinade, which enhances the flavor. The even thickness allows them to cook evenly and quickly.
When the chicken is boiling, Brush the reserved marinade on the meat. This enhances the taste. You can even leave some marinade (untouched by the meat) to drizzle over everything after it's done, like some kind of dressing.
When it's done, let the cooked chicken rest, tents with foil, for 5-10 minutes before cutting in. This allows the juices to redistribute (here's the science of it.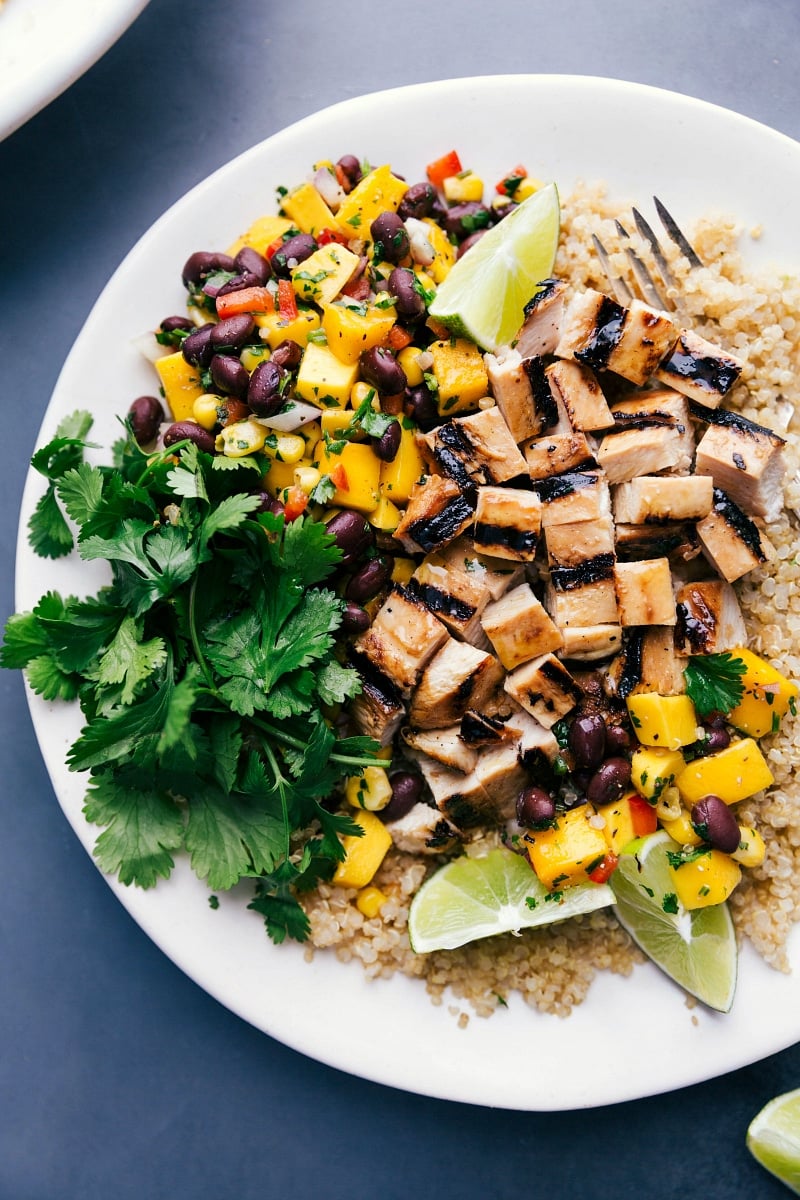 More quinoa recipes
Quinoa chicken bowls
Light and Nourishing Chicken Quinoa bowl gathers cilantro lime quinoa, marinated chicken and a fresh mango black bean salsa!
Course: Dinner, main course
Food: American
Keywords: chicken quinoa bowl
Servings: 4 servings
Calories: 544 kcal
ingredients
Chicken (see note 1)
2 large skinless boneless chicken breasts (~ 1.5 pounds)
3/4 cup of Sprite or lemon soda (not diet soda)
1/4 cup olive oil
1/4 cup plain soy sauce
2 tablespoons freshly squeezed lime juice
1/8 teaspoon garlic powder
1 tablespoon of honey
1/4 teaspoon fine sea salt
quinoa
1 cup of quinoa
2 cups chicken broth (can use water)
Optional: fresh lime and 1/4 cup diced coriander
Mango Salsa
1/2 cup frozen corn thawed
1/2 cup black beans, drained and rinsed
1/4 cup red onion finely chopped
1/4 cup red pepper, cubes
2 ripe honey (Ataulfo) mango, peeled and diced (OR 1 large mango)
3 tablespoons coriander, finely chopped
2 tablespoons fresh lime juice
1 teaspoon of olive oil
1 tablespoon dice jalapeño
1/8 teaspoon painted cumin
Optional filling: extra coriander, an avocado, pressure of fresh lime
Instructions
MARINES THE CHICKEN: Prepare the chicken breasts by halving thick / large breasts horizontally. Cover the chicken breasts with plastic wrap (to avoid splashing). Using a meat grater or the bottom of your skillet, pound the breasts to even thickness (you will not flatten the meat, just even the thickness everywhere). If you do not have super thick chicken breasts, just pound the breasts to even thickness. Pat chicken dry with a paper towel. Place it in a large zippered bag. Combine Sprite, olive oil, soy sauce, lime juice, garlic powder, honey and salt. Stir together and pour the marinade in the bag where 1/2 cup of marinade is reserved. Elt chicken to make sure it is well covered in the marinade. Let's sit in the fridge for 30 minutes up to 6 hours; avoid longer marinating time as the acid from the marinade will begin to dry out the chicken.

GRILL: Preheat the grill to medium heat (400 degrees F). Remove the chicken from the marinade and discard any remaining marinade. Prepare the grill by cleaning, then generously oil the grill (I rinse a rolled up paper towel in vegetable oil, and hold it with pliers, rub it over the grill grates). Hot grill up to 400 degrees F. Add the chicken to the grill. Cook for 4-5 minutes per hour. Side, or until it senses 160 degrees F (transfer heat leads to the safe temperature of 165 degrees F). Remove grilled chicken on a plate and cover with foil. When grilling, brush most of the reserved marinade over the chicken. Leave approx. 3 tablespoons marinade to "dress" the chicken when grilled.

quinoa: Meanwhile, rinse the quinoa in a fine mesh sieve. Add quinoa and chicken broth (or water) and salt in a small saucepan. Bring to a boil, then reduce the heat to low and cover the pan. Cook for 10-15 minutes, or until most of the water is absorbed. Remove the pan from the heat and keep the pan still covered, leave the quinoa to steam for 10-15 minutes. Remove the lid and fluff with a fork. Add fresh lime juice to taste (1-2 tablespoons) and diced coriander.

MANGO SALSA: Place the thawed corn, drained and rinsed black beans, finely diced red onion, finely diced, red pepper, mango cubes, finely chopped coriander, lime juice, olive oil, cubes of jalapeño and cumin in a large bowl. Salt and pepper the salsa to taste. Stir in the salsa, then taste and customize any taste to your personal preference.

SERVE: Divide the quinoa evenly into 4 plates. Chop or chop the chicken and add it to the top. Drizzle reserved 3 tablespoons marinade over the chicken. Divide salsa evenly on plates. Garnish with sliced ​​cilantro and sliced ​​avocado. Press a wedge of fresh lime over the bowl.
recipe Notes
Note 1: The marinade is divided into three parts, so don't add it all to the raw chicken, otherwise you won't be able to use it later. We use the mixture to marinate the chicken, so when the chicken is cooked, we brush the reserved marinade on the meat. We also leave some marinade to drizzle over everything when done as a kind of dressing.