Buttermilk Drop Biscuits. Quick and easy, this biscuit recipe is assembled in minutes. They bake soft and fluffy. The perfect companion to any meal!
These quick and easy drop biscuits have been repeated in our home recently. The recipe is quick and easy to follow. Only need minutes to put together. They are baked soft and tender. Slather on some garlic butter and they really are a decadent side dish that complements any of your soups, pasta or chili.
While I LOVE a classic flakey southern homemade biscuit. These drop biscuits meet so quickly that they are hard to give up. And if you fancy making a meal out of your biscuits, check out these Loaded Buttermilk Biscuits that have added sausage, cheese and jalapeño.
How to make biscuits:
Combine the dry ingredients: flour, salt, baking powder and baking soda.
Mix butter in: For this step you can use a pastry blender, food processor or even two knives or forks. Cut the butter into the flour mixture until it is like a coarse meal, no large chunks of butter.
Pour in cow's milk, stir all the ingredients together.
Form biscuits. These are drop biscuits because of the simple process of dropping the dough onto the baking sheet. Keep the biscuits the same size to ensure they are baked evenly.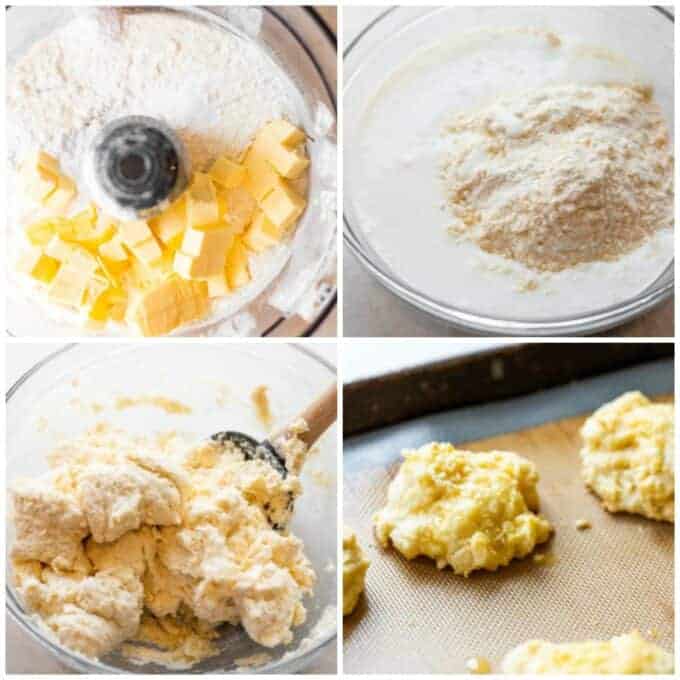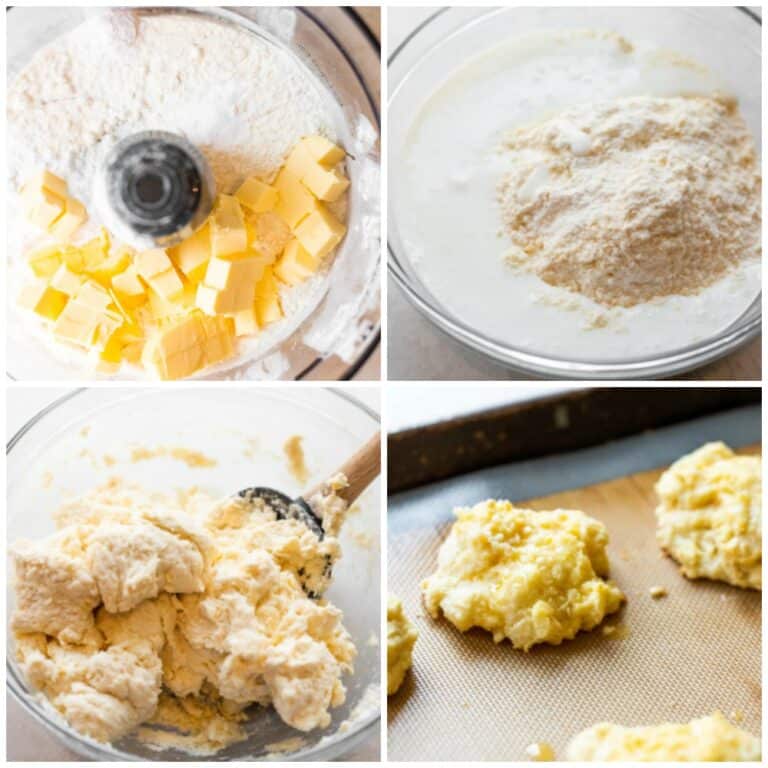 Replacement for buttermilk:
No buttermilk on hand? You can still make these biscuits. To make your own buttermilk measure the amount needed in the milk, then add a tablespoon of white vinegar or lemon juice.
What to serve these biscuits with:
1 ½ cup all flour
1½ t baking powder
¼ teaspoon baking powder
½ teaspoon salt
5 tablespoons unsalted butter, cold
¾ cup of cow's milk *
garlic butter
1 tablespoon unsalted butter, melted
½ tsp garlic, chopped
Preheat the oven to 425 and place a large baking sheet with parchment paper or a silicone baking sheet.

Add flour, baking powder, baking powder, salt and stir with a fork to combine in a large mixing bowl (or food processor).

Cut the cold butter into small cubes and add to the flour mixture. Using a pastry mixer or forks, cut the butter into the flour until no pieces are larger than a pea. (or can do this step in a food processor)

Pour the buttermilk and stir until mixed.

Use a large spoon to spoon the dough and place it on the baking sheet. Leaving the dough not nicely rounded gives the biscuit a more textured look when baked. Batteries provide approx. 9 biscuits.

Bake for about 10-12 minutes until the biscuits are baked through. Allow to cool for several minutes, then remove from the pan and continue to cool on a wire cooling rack.

In a small bowl, combine the melted butter and minced garlic. Brush on the baked biscuits before serving.
Buttermilk: To make cow's milk substitute add 1 tablespoon of white vinegar or lemon juice to the milk. Let sit for several minutes until the milk thickens, then use in the recipe. Storage: Store remaining biscuits in a sealed container. At room temperature they last 1-2 days. In the refrigerator up to 1 week. How to freeze: After baking, allow the biscuits to cool to room temperature. Wrap tightly in foil, then store in a freezer-safe container. Use within 2 months. To remove thaw from the freezer, unpack it and allow to thaw at room temperature for about 1 hour. Can be heated in the microwave or oven.
Serving: 1 g, calories: 145 kg, carbohydrates: 17 g, protein: 3 g, fat: 7 g, saturated fat: 4 g, cholesterol: 19 mg, sodium: 263 mg, potassium: 49 mg, fiber: 1 g , Sugar: 1 g, Vitamin A: 230IU, Calcium: 73 mg, Iron: 1 mg
House of Yumm is a participant in the Amazon Services LLC Associates program, an affiliate advertising program designed to provide us with a means to earn fees by linking to Amazon.com and affiliate sites.
Never miss a recipe
Subscribe to receive new posts by email.