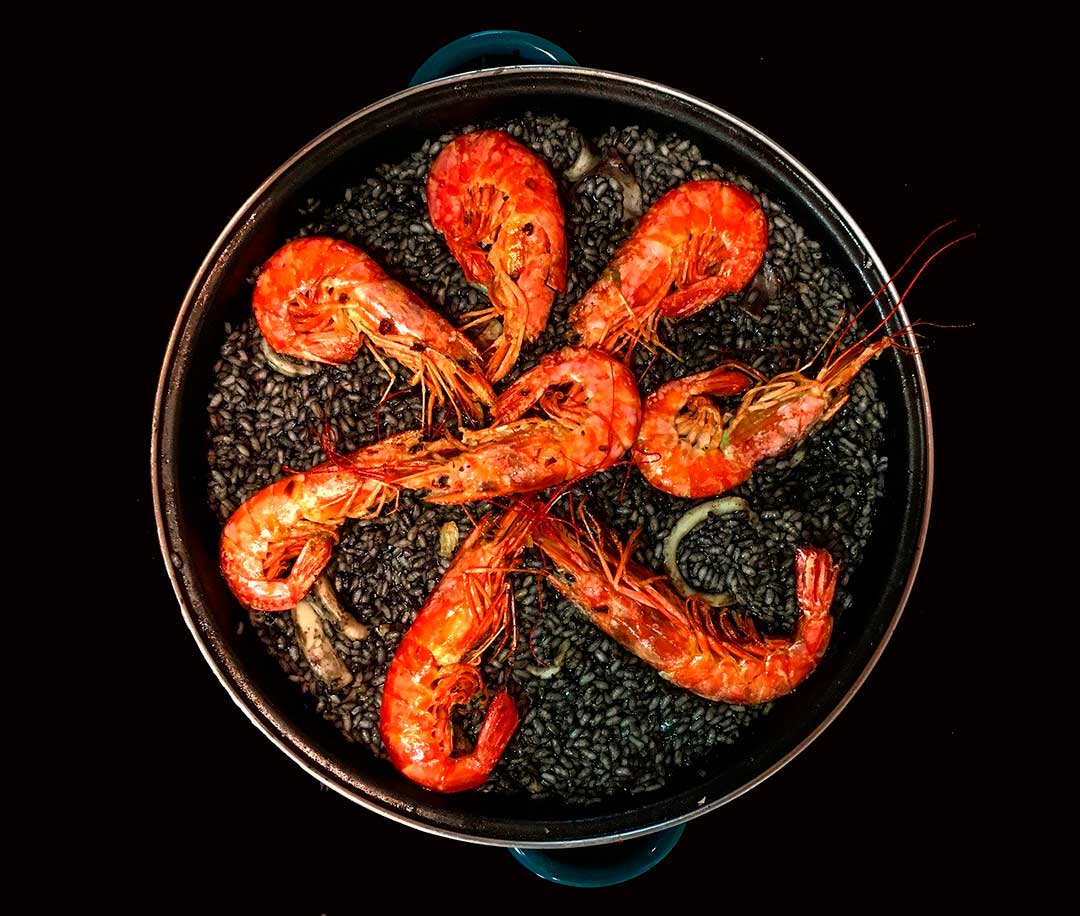 1 hour and 20 m Calories: 180 Easy 4 people
Hello Cocinacas! What about cooking rice dishes? We have to recognize that it is not usually an easy ingredient to cook, but today we want to teach you how to do it prepare a black rice and show that it can look great.
In our rice recipes you will find all kinds of dishes, salt or sweet, broth or dry, with meat or vegetables … there are also many types and types of rice, so first of all it is important to know how to choose the right one.
Asians are the ones who produce and consume the most, but in Spain we also have three growing areas very important.
The marshes of Guadalquivir (Seville)
From here, 40% of production emerges and stands out because it is mainly rice long grain.
The Ebro river delta (Tarragona)
The six types of rice are produced in the bay and this area received the Protected designation of origin (D.O.P.) Arròs del Delta de l'Ebre. In our article on food and travel to Tarragona, we recommend visiting the Delta to see how rice is planted, how plants grow in paddy fields, and what collection involves.
In the Valencian Community
Specifically on land near the Albufera Natural Park, the Pego and Oliva wetlands and at the mouth of the Júcar River. Three varieties of Valencia rice with an appellation of origin are grown there.
One of the secrets of making good rice is in the quality of ingredients that we are going to use. For this type of black rice that we are going to make today, we use pump rice and a good fish stock that gives it a lot of flavor. Let's start!
Ingredients for 4 people
Bomba rice – 200 gr.
Fish stock – 600 ml.
Baby squid – 500 gr.
Squid black ink – 2 bags
Garlic – 1 clove
Onion – 1 unit
Tomato – 1 unit
Oil – 50 ml.
Salt – 30 gr.
How to make the recipe for black rice with baby squid
Before we start with the rice, we have to clean the squid very well. Whether fresh or frozen, we must ensure that the viscera and pen are removed using tap water. When they are clean, we have to cut them into strips and then into squares. We reserve.
We are going to start preparing the rice sofrito to give it a lot of flavor. We add the oil, the garlic we cut earlier in chopped pieces, cut the onion in brunoise and fry over medium heat. If poached properly, we leave space in the center of the paella to toss the baby squid we already cut. We add salt to the set of ingredients and stir so that everything is done together for 3 or 4 minutes. While it is ready, we are going to cut the tomato (as we like, squares, grated or crushed) and after the time we said earlier, we will also take it up and cook everything for 2 or 3 minutes over medium heat.
While the sauce is ready, we need to prepare the fish stock. This should be hot (not boiling) when we are going to record it. When we have the sofrito ready, we add the rice. Then the two envelopes with ink and a little broth so that everything is mixed and the ink is diluted, with the high heat.
From this moment on, we no longer stir the rice with the spatula, but if necessary, we remove the paella. We finish by adding the missing broth and taste the salt point to taste it. We bring it to a boil (over high heat) and count 4 minutes from the moment it starts to boil. Then we reduce the heat to medium and let the rice cook for about 15 minutes.
After this time, we will have to test the rice grains to verify the boiling point and taste. When we consider that it is ready, we will take it off the heat and cover the paella pan to let it rest for 5 minutes.
Comments and tips
Black rice can be made in one Paella (This is the correct name of the container it was made in and thus the name of the dish), in one baking pan high or casserole. Depending on the one we use, the cooking time of the rice can vary.
We remember that the onion brunoise is in 1 or 2 centimeter squares.
During the 15 minutes of cook rice we have to make sure it doesn't dry out. In that case we add more fish stock or boiling water.
It is important to let the rice rest for 5 minutes. When served, it may be accompanied by aioli sauce or a slice of lemon. We hope you enjoy it!
If you want to learn make paellaHere you will find four irresistible paella recipes to choose the one that stands out the most, because we use different techniques and flavors, including the original ones.
What are your favorite ingredients in a rice or paella dish? Tell us through the comments and if we haven't published it yet it will be one of our next rice recipes.
See you soon, Kitchen!
If you liked this recipe for black rice with baby squid we recommend that you do not miss and do not forget more rice recipes Follow us on YouTube where we have over 1,000 free videos for you. CLICK HERE. Rice recipes