A lightly baked version of Mexican Chile Rellenos stuffed with Salsa Chicken, Greek yogurt and cheese.
Baking chili rellenos is a healthier spin on traditional chili rellenos, and the salsa chicken adds extra protein to make it a protein packed meal. If you've had traditional chili rellenos, you know they are dipped in egg yolk and deep fried to a delicious golden, cheesy goodness. I love a traditional Chile Relleno, but as we try to make prey here and there to eat healthier, this recipe turned out as good as the fried version. In fact, I might even prefer this method better as it was less messy to clean up and the salsa chicken made it fuller.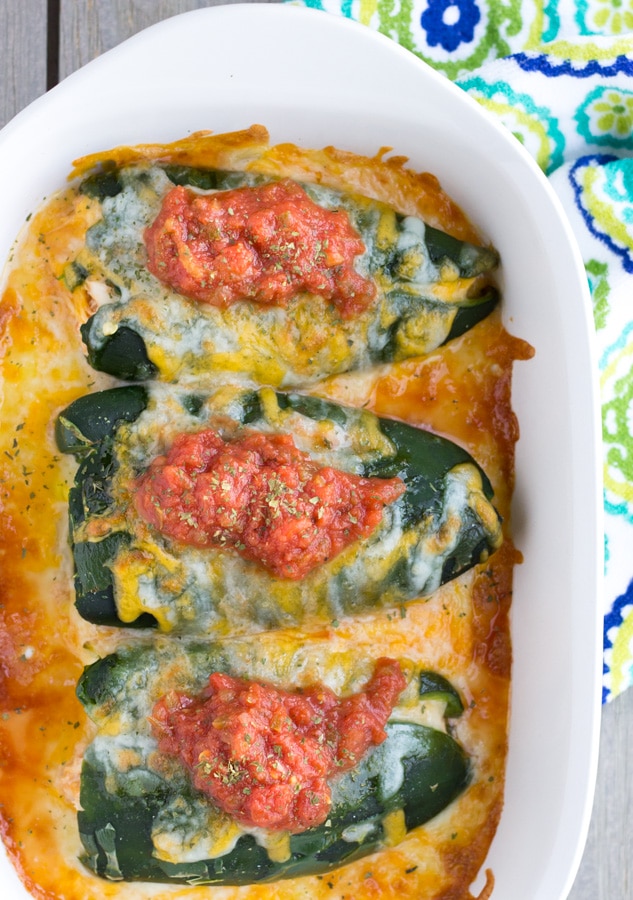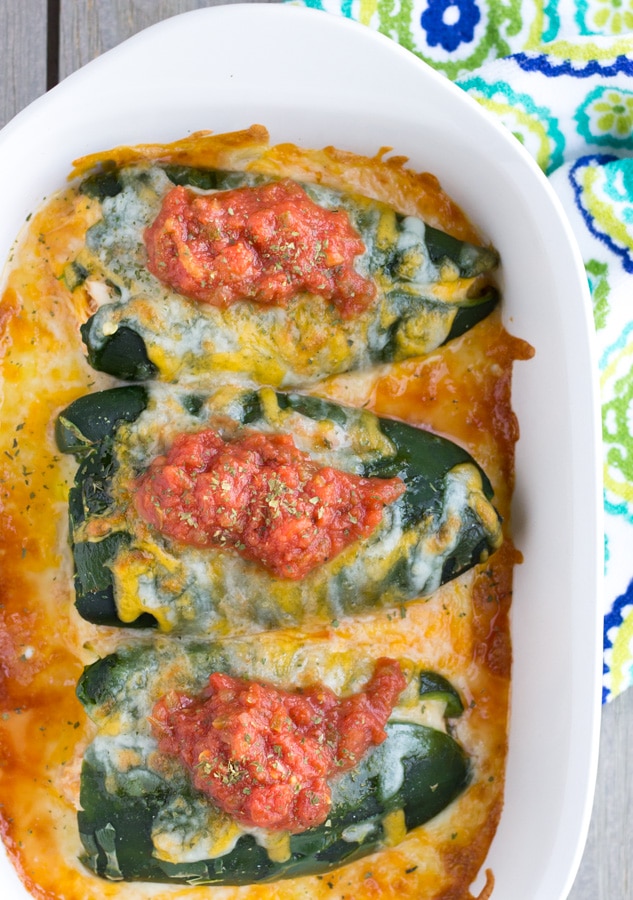 This recipe requires that you first make Salsa Chicken, either in Instant Pot or Crock Pot. You can either make it the morning or the night before and eat it for dinner, and then use leftover Salsa Chicken for Chile Rellenos. I used red salsa for this and the tomato flavor went perfectly with the Chile Rellenos as these are typically served with a tomato sauce on top. These are pretty filling, so you don't need much to accompany them. I also added some leftover salsa on top for more spice.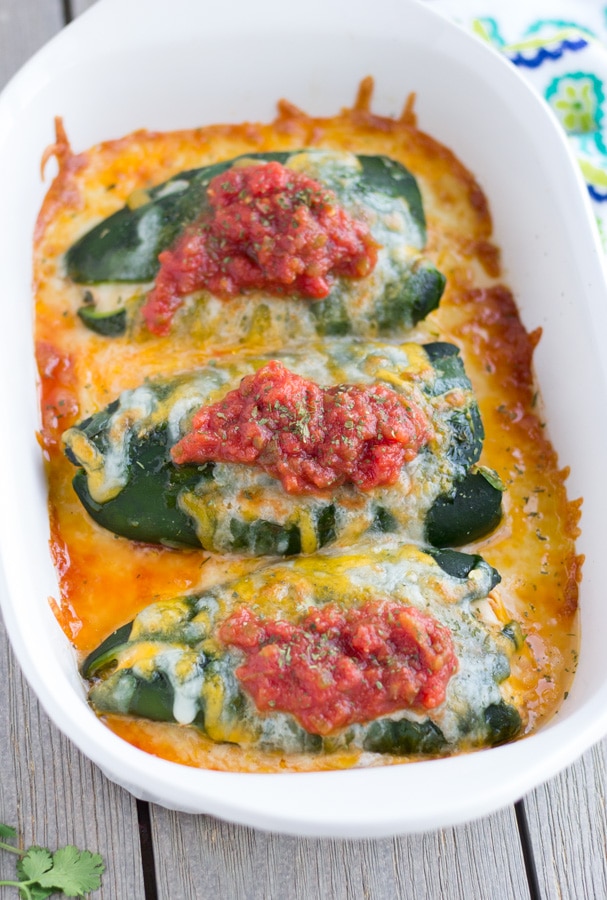 Try this lighter version of Chili Rellenos for a healthy and delicious Mexican meal.
As an Amazon associate, I earn on qualifying purchases.
Be sure to tag me on IG @ThaiCaliente if you make any of my recipes and follow me on Pinterest to save them on your boards.
Baked Chile Rellenos
A lightly baked version of Mexican Chile Rellenos stuffed with Salsa Chicken, Greek yogurt and cheese.
ingredients
4 large Poblano Peppers
2 cups of red salsa chicken
1 cup of Greek yogurt
1 cup Malt Mexican cheese mixture divided
Red salsa for serving
Instructions
If you have a gas burner, hold Poblano over the open flame until it is blasted on all sides. If you do not have a gas burner, place all 4 Poblanos on a baking tray and place it under the oven. Turn until each side blisters. Immediately place in a brown paper bag and fold the top. Or you can put in a large bowl and cover tightly with saran wraps. Meanwhile, the oven has preheated to 350.

Let Poblano steam for about 5 minutes in the bag, remove it and place it on a cutting board. Most of the skin should be peeled off, remove all skin from Poblano. Carefully cut a small slit down the side and remove all the seeds.

In a bowl mix the Salsa chicken, Greek yogurt and 1/2 cup of the shredded Mexican cheese. You can add a bit of salt and pepper to taste.

Carefully spoon about a 1/2 cup of the mixture into each Poblano pepper and then place in a refractory form. When all the peppers are full, use the remaining cheese and sprinkle on top.

Bake covered for approx. 10 minutes, then turn on the broiler. Cook until the cheese turns into a nice golden brown, about 2 minutes. Serve with extra salsa on top.
recipe Notes
Recipe for Salsa Chicken can be found here.