Baked Chicken Quesadillas. Creamy and cheese. These baked, chicken quesadillas plates are perfect for a family dinner or for feeding a crowd! Filled with tender piece of chicken, melted cheese and all coated with a taco seasoned cream fraiche.
I am so proud to have partnered with H-E-B to kick off an uplifting initiative that is near and dear to my heart – #TexansHelpingTexans. During this time, I am committed to sharing easy recipes for the family! As always, all statements expressed in this post are mine. Thank you for continuing to support the brands that support House of Yumm <3
Quesadillas are the perfect family dinner or appetizer needed for an audience. Baking them not only makes the process quick and easy, it is the BEST way to get everyone fed, while quesadillas are all still hot! No more doing them one at a time, just load one sheet pan and get it all done at once. A thin layer of oil on the tortillas helps ensure that they are baked nicely and crispy.
To help make this recipe quick and easy, pre-shredded chicken helps! Rotisserie chicken is a great option. Or you can make your own pile of shredded chicken, instructions included in the recipe card below.
How to Make Baked Quesadillas:
Prepare the filling: for this recipe we use shredded chicken, cheese, sour cream and a homemade taco seasoning. Stir this together.
Spread filling in tortillas: flour tortillas are perfect for making quesadillas. Spread the filling on one half of the tortilla, then fold the tortilla over so the filling is squeezed in between. Be sure to press down the tortilla to help ensure that the tortilla does not bend while you cook.
Oil: brush oil on the baking pan or parchment paper, this will help coat the tortilla bottom and then brush the oil on top of the quesadillas. This helps make a flakey, perfectly cooked tortilla for a quesadilla.
Bake: Bake at 425 ℉ for 15-17 minutes.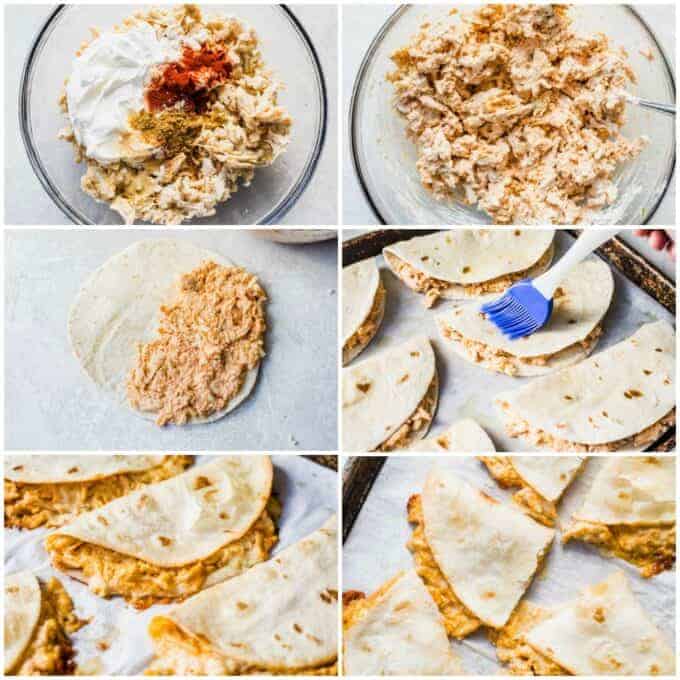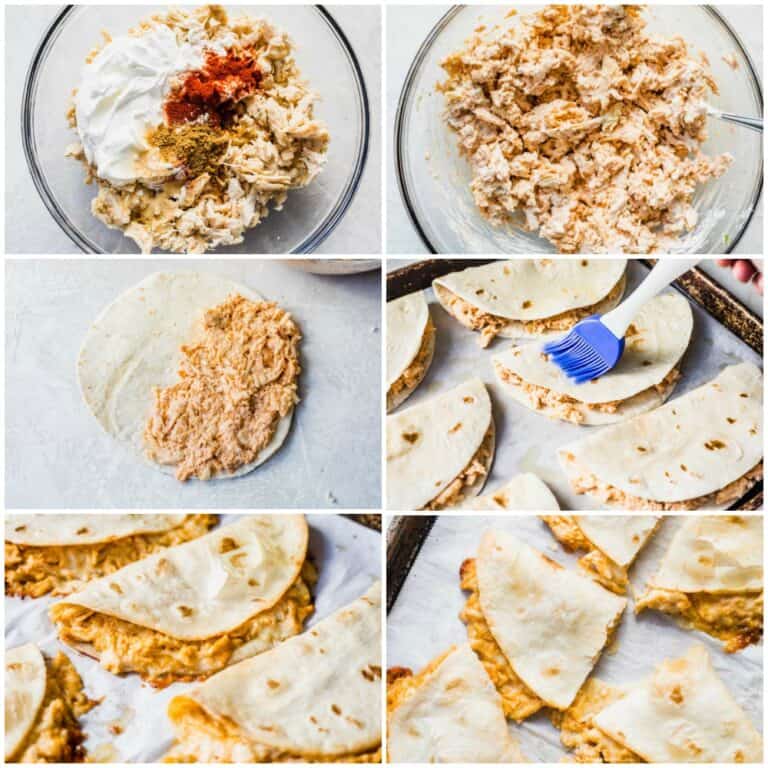 Topping ideas:
One of the best things about these baked chicken quesadillas is that you can load them with all your favorites!
variations:
protein: easily switch meat in this recipe. Some ideas would be to use Mexican breast, Barbacoa or Carnitas. Or you can easily swap the chicken instead of vegetables.
Cheese: Use a pepper jack or mild cheddar to suit your taste.
veggies: Add some dice with paprika, black beans, corn, cilantro, jalapeño or other vegetables of your choice.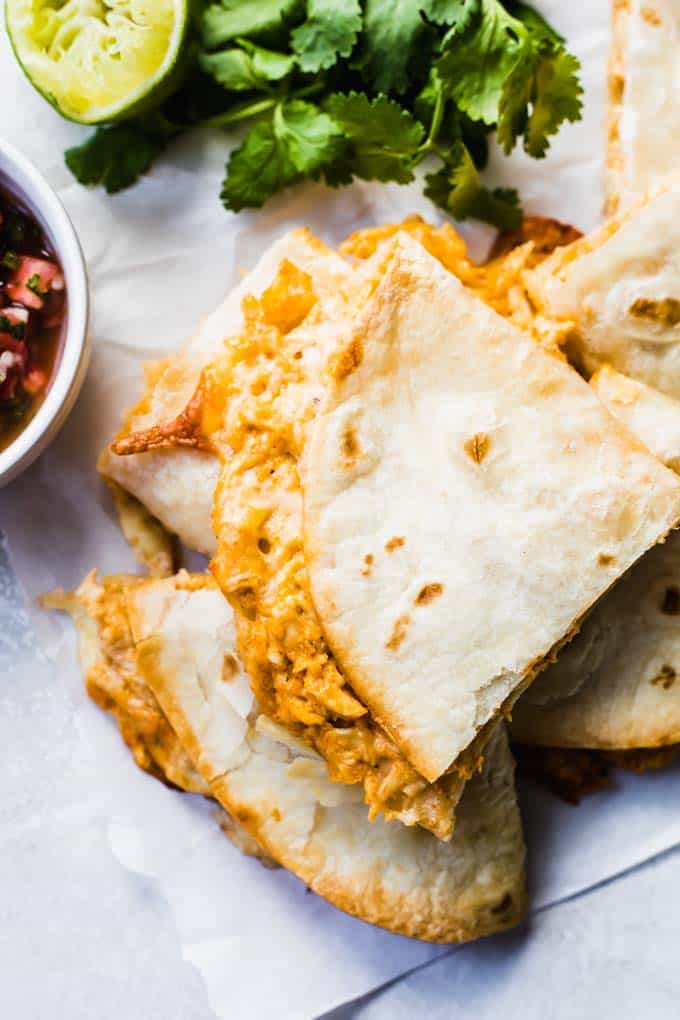 If you see tortillas begin to bend as you bake, just open the oven and press the tortillas into the filling using a wooden spoon. Be careful!
2 tablespoons avocado oil, can be subjected to vegetable, canola or extra virgin olive oil
1 pound chicken, cooked and shredded
1 cup of crème fraiche
½ t of chili powder
½ teaspoon smoked paprika
1 teaspoon garlic powder
1 teaspoon onion powder
½ teaspoon cumin
1 teaspoon salt
½ t painted black pepper
2 cup Monterey Jack cheese, shredded
8 flour tortillas, (6 inch size)
toppings
sour cream
pico de gallo
guacmole
Preheat the oven to 425 ℉. Line a large baking sheet with parchment paper, brush the paper with a small amount of oil and set it aside.

In a large bowl, combine the shredded chicken, sour cream and spices. Stir to combine.

Add the shredded cheese and mix until combined.

Work with one tortilla at a time and spread about 1/2 cup of the chicken mixture on one half of the tortilla. Fold the tortilla over. Squeeze the tortilla well so that the top adheres to the chicken mixture in the middle (this helps with baking). Continue this process until all the tortilla and chicken mixture is used.

Place the folded tortillas on the prepared baking sheet. Brush the top of the tortillas with the remaining oil.

Bake for 15-17 minutes until tops of tortillas turn golden. If you see in the middle of the baking that the tortillas are bending, gently press them down again using a spoon or a spatula.
Rotisserie or pre-shredded chicken from the market makes this recipe quick and easy. However, you can also make your own. How to shred chicken: heat a medium-sized pan over medium heat. Sprinkle with extra virgin olive oil. Add the chicken and sprinkle with salt and pepper. Cook for approx. 5 minutes, then turn and cook the other side for another 3-5 minutes. Pour about 2-3 cups of water into the pan, cover with a lid and cook for about 15 minutes, until the chicken is cooked through. Remove and make chicken easy.
Calories: 254 kcal, carbohydrates: 2 g, protein: 13 g, fat: 22 g, saturated fat: 10 g, cholesterol: 61 mg, sodium: 633 mg, potassium: 119 mg, fiber: 1 g, sugar: 1 g , vitamin A: 546IU, vitamin C: 1 mg, calcium: 245 mg, iron: 1 mg
House of Yumm is a participant in the Amazon Services LLC Associates program, an affiliate advertising program designed to provide us with a means to earn fees by linking to Amazon.com and affiliate sites.