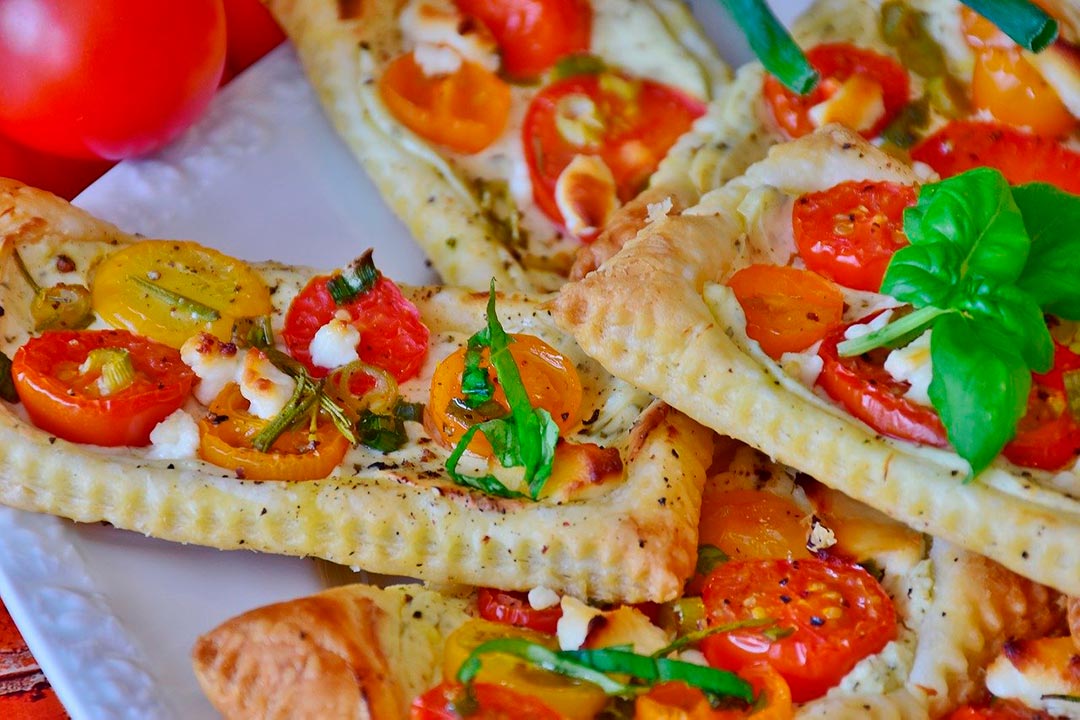 50 m Calories: 210 Easy 4 people
Hello Cocinacas! How are you today? We hope you are excited and excited to prepare our caprese salty cake. It's very easy to make, healthy and if you try it the taste will take you straight to the Italian island of Capri.
If you like to innovate in the kitchen, you will find ideas for extensive dishes in our mass recipes that you do not have to think long about. One of these are these zucchini and smoked salmon flowers, with whose recipe you can also make a sweet version.
Our main caprese pie has tomato, mozzarella and basil as its main ingredients. It is 100% Mediterranean and healthy. But before we start cooking, we need to select which varieties interest us most.
There are at least seven varieties of tomatoes, and they all have different uses in the kitchen. We are going to use two for our caprese salty cake. The branch cherry tomatoes, because of the taste and because they are very showy. But also the round tomatoes (the most common) or, if you find them a bit sweeter, you can use kumatos.
Around the Mozzarella we must keep in mind that this must be possible melt in the oven without burning. The one widely used in pizzas is buffalo mozzarella and we can use it in our recipe as a quality product. However, another cheaper option is calling mozzarella pearls which they sell in supermarkets and which are easier to spread over the puff pastry, next to the cherries.
If you also want the cake to be as homemade as possible, we will teach you how to make the puff pastry.
We hope you enjoy it!
Ingredients for 4 people
Puff pastry – 1 unit
Cream cheese – 70 gr.
Round tomato – 2 pcs
Cherry tomato – 12 pcs
Mozzarella pearls – 10 pcs
Egg – 1 unit
Fresh basil – 8 units
Oil – 25 ml.
How to make the recipe for Salty Tart Caprese in the oven. Italian recipe
We start with preheating the oven to 200 ° C, with heating and cooling. We place the rectangular puff pastry on baking paper or parchment paper, which we in turn place on top of the baking tray that we are going to put in the oven. Now we are going to draw with a knife, a rectangle in the dough (without the cut being deep, only lines), with an inch left on each side. This way we make sure the ingredients are in and when the puff pastry grows in the oven, the ingredients don't come out of the sides.
We continue to spread the cheese spread within the rectangle we made into the dough. We wash and cut the tomatoes and place them on the cheese as we like. Then we also place the cherry tomatoes and the mozzarella pearls divided by the gaps left between the tomato slices. And on top of everything we add the basil leaves and a dash of oil.
We introduce the baking tray at medium height and bake at 200 ° C for 20 minutes, so that it does not burn.
Comments and tips
The caprese salty cake can also be Season. In addition, we will tell you a trick so that the crispy puff pastry: Just bake it a few minutes before adding the ingredients.
As you can see, it is a very simple and perfect recipe to eat with the family. The idea for this cake came from the caprese salad we already taught you to prepare. In our salad recipes you will find a wide variety in case you want to accompany the piece of cake.
If you know of another salty recipe or you want us to make a new recipe with your favorite ingredients, please tell us through the comments.
See you soon, Kitchen!
If you liked this Baked Caprese salt sharp recipe. Italian recipe we advise you not to miss and forget more Mass Recipes Follow us on YouTube where we have over 1,000 free videos for you. CLICK HERE. Mass recipes